†††††††††††††††††††††††††††††† Berlina Register Newsletter No. 52 (January 2023)
Notes and Comment
Do I look refreshed? Been retired from my LexisNexis job since June. Mostly been working on my and other folksí cars and helping out at Conradís shop. Taken a few trips, and volunteering at the Western Railroad Museum, working on track and catenary. Weíll see how that goes.† Super, GTV, and 911 all doing fine. Did a head gasket on a Talbot-Lago Grand Sport (see pic below) for a friend, that was some project, and miscellaneous Alfas and Lancias.
<![if !vml]>
<![endif]>†Friend Aaron had me put a 4.10 LS differential in his twin-to-mine green Super, and what an improvement over the noisy 4.56 that was in it. I did the same on my car fiveish years ago, wasnít sure at first I liked it, seemed like I was always going too fast and/or in the wrong gear. But having since done a lot of freeway miles, I do find I like the longer gearing. Itís a bolt-in job.† Thanks to Gordon for the article below, in part an appreciation of a Berlina with an auto trans, something we didnít get in the US and which Iíve never seen. Sounds like a stunning car.
The keeper of the Berlina Register, North American Giulia Sedan Register, and Giulietta Sedan Register is Andrew Watry, email watry@prodigy.net.† Send corrections to your information or any other Giulia- and Berlina-related facts, rumors, tips, or needs.† Always seeking articles for the newsletter.†
Automatically Perfect
By Gordon Carter
<![if !vml]>
<![endif]>
My name is Gordon, I live in Southern Victoria, Australia. I always wanted a classic Alfa Romeo, but for a long time I couldn't afford one. About 10 years ago I set my sights on a Berlina 2000. I had one in the late 1970's, my first car. I sold it after having it for two years as I lost my job and couldn't afford the payments. I regretted selling it and vowed that one day to buy another Berlina and own it outright from the start.
Many years passed and I began looking for another Berlina in 2012. I had my heart set on an automatic transmission Berlina in great condition. By 2012, Berlina 2000's in such condition were scarce. A couple of manual transmission models came up, but I had my heart set on an automatic. Automatic transmission Berlinas were very scarce, considering that only about 2,200 were made, and only a few of those in the right-hand drive form.
<![if !vml]>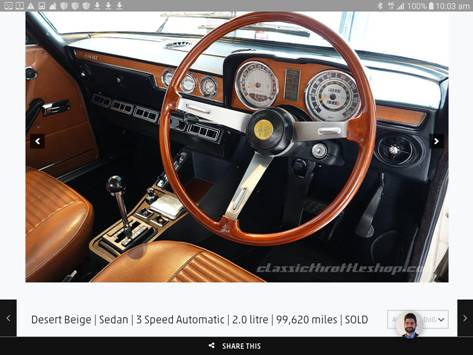 <![endif]>
For years I kept looking out for one online, but only the occasional manual came up. Well, eventually my persistence paid off. Early in 2022 I saw one advertised in Sydney, New South ales. It was being sold by Classic Throttle Shop, the biggest dealer of fine classic cars in Australia. It was for sale at $75,000 Australian. The pictures looked great and I made enquiries. I called the Alfa Romeo specialist in Sydney who serviced the vehicle. He assured me that it was a magnificent automatic Berlina in excellent condition. I also called the previous owner of the car in Melbourne. He had looked after the car and maintained it meticulously. It had a new engine, transmission rebuild, new paint job in the original color Beige Cava.
I decided to take it further, and after several phone calls and emails with the Sydney dealer, I negotiated an offer of $70,000 (roughly $47,000 US), which was accepted. The contract was mailed fast post to my home in Victoria. I signed it, sent it back to the dealer, and transferred the money to the dealer. The dealer arranged for a good transport company they use to deliver it to my home. This cost $1,200 Australian but it was worth it. It arrived two days later without a scratch. It was beautiful.
The car came with the original logbook, service records, complete parts manual, and old magazines featuring Berlina 2000 road tests. The car sat in the garage for two weeks as it was uninsured and unregistered. The first thing I did was to arrange full insurance with a company that specializes in insuring older, classic cars, at a cost $300 annually. The last owner told me it had no rust; that had been taken care of during the repaint. I contacted an Alfa Romeo specialist mechanic in my town. I told him to go over the car thoroughly from top to bottom and fix every flaw he could find, no matter the cost. I obtained a permit from Victoria Registration and Licences to take the car to him unregistered. The mechanics did find a few minor flaws, nothing major at all. They were amazed at the overall superb condition of the car. A few parts were ordered from Italy that could not be sourced within Australia. These took several weeks to arrive. Meanwhile, the car was fully serviced including all fluids, spark plugs, †wheel alignment, all filters, carburettor service, camshaft timing, distributor cap and rotor, valve clearance check, remove front and rear suspension, and check-over. Over 30 hours labor in all. They had the car for eight weeks. Total cost was $7,000 Australian. I was happy to pay it as it's a rare and special car. A great car was made an even better car. The mechanic is an Alfa Romeo specialist who loved working on it. He put in several more hours that he did not charge for just because he loved working on it. An honest man indeed. I took home a flawless Berlina. I am glad i don't have to take the car to an Alfa specialist in Melbourne. I have one here in my town.
<![if !vml]>
<![endif]>
Next, I joined the Victorian branch of the Australian Alfa Romeo Club. Because the Berlina is an older car, I was able to register it as a classic. This exempted me from paying Stamp Duty on the purchase price, saving over $3,500. Being a club member I paid $120 registration, which permits me 45 driving days per year. I must fill in a logbook before I drive it in case the police stop me to check my logbook. If I am caught without the logbook entry made I could incur a large fine. So, I take it out for an hour's drive every two weeks. My Fiat 500 is my main runaround town car.
The Berlina drives beautifully, the ZF automatic transmission is so smooth that I hardly feel the gear changes. At 100 kph the engine "sings." I cannot go faster than that by law. I have been spoilt with power steering. The Berlina doesnít have it, so the steering seems a bit heavy. I was considering having power steering installed. I have been strongly advised not too as it would take away from the car's originality and drop the value by a considerable amount. So no power steering. I have also been advised not to use the manual choke when starting the engine as it will foul the carburetors.
<![if !vml]>
<![endif]>
I am the fourth owner of the car as far as I can tell. I am very proud of it. It's probably the only Berlina in my town of 250,000 people. Many people have never seen one and it is a head-turner when I am stopped at the lights. The previous owner is an Italian immigrant. He told me that in Italy the Berlina was considered the poor man's limousine! So that's my Berlina story. I hope that you enjoy it!
Care and Feeding of an Alfa Sedan
A few thoughts here on how to treat your Alfa sedan. Mostly not Alfa-specific.
Drive it regularly, and when you do get it fully warm.

†

One thing that wears a car out, ironically, is non-use. Fluids, seals, system need to work and be lubricated to remain functional. Brake and clutch seals, engine seals, all need use to remain supple and working well. To keep internal engine, trans, diff corrosion at bay, run it long enough to get all the fluids fully hot, to burn off moisture and condensation, and to rotate all the moving parts to get oily.

†

Use quality fluids and parts.

†

If you can use it, synthetic oil is way better than regular oil. Some old seals may not be compatible, and anecdotally older engines can leak more on synthetic oil because the ďmolecules are smallerĒ and leak out easier.

†

But synthetic oil lubricates better, clings better, and can stand much higher temps without breaking down.

†

On most of these engines, use a classic oil with zinc, or add ZDDP if not. Your tappets and cam lobes will thank you. Add at each change.
Change fluids regularly.

†

For regular oil, 3000 miles is the interval of oil and filter change. For synthetic itís more like 7500 miles, but not sure I could do that on an old Alfa. If you donít put on a lot of miles, change annually.

†

Diff and

trans

, not so frequently but check it annually and change maybe every five years.

†

Antifreeze and brake fluid are recommended to change every two years. No one does but at least calendar it a few times per decades. DOT4 is my preferred brake fluid. I tried silicone and itís not as ďoily,Ē has more friction. It doesnít absorb moisture, which regular fluid does, but moisture still gets in the system from the air; it remains separate and corrodes cylinders.
For drum-brake cars, you really must exercise the brakes regularly, getting them fully warm, to avoid stuck pistons and seals.

†

Drum brakes are a regular maintenance item. Look at the cylinders from time to time, do they show calcified gunk and/or drips? They can be both leaking and stuck firmly at the same time! Stay on top of them to be safe.
Pay attention with all your senses when driving. Any smells or feelings

that are

different? If so investigate. Look under the

car,

are there puddles that differ from normal? Investigate. Check your fluids regularly, based on how quickly your car goes through them. Youíd be amazed how many folks ruin engines, running out of oil. Iím guilty of this myself on a car that leaks and/or burns, which most old Alfas will.
Keep the weather out!

†

Check your door, window, trunk seals for leaks. Water getting into the car will rot it from the inside out.

†

Windshield seals, door seals will admit water if not seating properly, then the water sits at the low point and eats away at the steel. Trunks are especially prone to this, the spare tire well and ledge around the gas tank rust away. Iíve seen a Giulia TI gas tank fall out due to this, no joke.
Fix stuff.

†

When something goes awry, fix it.

†

You donít want issues to pile up til they overwhelm you and the car. One or two things OK, you can handle that. But half a dozen things, now the carís becoming undriveable. Then it sits, and rots; soon a junker.
Enjoy the car.

†

I know a fair number of folks who donít use their old Alfas, first want to get them to some perfect state. I say get the car usable, drive it and sort out as you go, if thatís possible. For me, these cars are all about driving. So use it!

†

Itís hard to find the time to make it perfect, so get it to a manageable state and then drive and use. That can be tough if youíre not handy yourself, and the car would need to go to the shop for repair.

Seek help when needed. The clubs, AROC and ARA, are full of helpful folks and tech hotlines when you are over your head. And if you havenít poked around on the AlfaBB online, it is one of the best one-marque sites there is. Alfas folks are generally friendly, helpful, and reasonably capable, and there are experts in every area just waiting to answer your esoteric question. Plus, parts and cars for sale.

Be realistic.

†

Have cars, in a sensible number, for the life you lead. If one sedan is what you can handle in your chaotic life, fair enough. If projects line the garage and you can keep on top of them all, good for you. But know what makes sense. Iíve had at time 13-14 cars, and thatís pretty nuts. Iíve scaled back to two permanent Alfas (Super and GTV) and projects cars that pass through. My life is calmer and more manageable, not to mention the money Iím saving on insurance, storage, DMV fees, therapy.
Market Report
1967 Giulia Super.† Maroon car with blue leather interior. Strong, dialed-in low-key hotrod. Owned serially by three racers, built up originally by a racer, suspension by Bob Mello, best in the Bay Area.† Average 2000 engine, good trans, driveline and diff fine. Extremely good suspension, aftermarket sway bars, revalved Koni shocks, 6 x 15 TZ mag wheels. Paint older with a few scrapes, interior showing age but quality work. Salvage title. $24,000 private sale, Redwood City CA.† Hands-down the best 105 chassis Iíve ever driven. Built by a guy from Norman Racing, developed by two different CSRG vintage racers, the chassis really works. Once housed a Twin Spark, now an average 2000. Salvage title is a bummer, but if youíre not selling it, who cares? Very fair, even cheap if you count the TZ wheels, which are worth 1/3 of the price. 6/22
1969 US 1750 Berlina. Maroon car, tan interior.† Familiar car thatís been around NorCal for years. Recent headliner, dash, windshield. Body and interior average, mechanicals including 2000 Spica engine, trans, brakes, suspension completely gone through by past owner with Jaan Hjorth of Eddins Moto maybe 15 years ago. That owner spent more than the car was worth, and tons of time, working through it to have a good daily driver. Didnít worry about the cosmetics, which arenít bad, just tired. Steel 2000 wheels and hubcaps. $12,500 AlfaBB, Sacramento CA.† Good solid car that you could use as is or paint it and still be in good economic shape.† Car has mostly been sitting so might need some recommissioning, though I wouldnít think much.† Good deal by some thousands. 6/22
1972 US 2000 Berlina. Red car with black interior. Solid mechanically if getting long in the tooth. Straight, not rusty but paint is old and lacks shine. Euro nose panel so you get two sets of turn signals! Koni shocks, Panasport wheels, rebuilt driveshaft, brakes, bearings. Head gasket and valve job 10 years ago, rebuilt front end. Interior decent but getting tatty. $14,500 Craigslist, Berkeley CA. †Good honest daily driver Berlina. Iíve known the car 15 years, owned it for a couple years, did most of the work. Price maybe a touch low but seller, having just bought a Giulia Super, was motivated. Immediately painted and relisted on LA CL and ebay for three times as much. †7/22
1977 Nuova 1300 Super.† Maroon car with tan interior. Good solid unmolested Nuova. Mechanically all there, repainted in 2019, appeared to be solid and usable, no rust or dents showing. Still had Nuova interior and exterior trim. $23,250 BringaTrailer, Stafford VA.† Fair deal, even cheap if you donít mind the Nuova styling differences. They all drive the same! Easy to drop in a 1750 or 2000 if youíre so inclined.† Smart buy. 7/22
1964 Giulia TI.† Grey car with brown/tannish seats. A rare creature, an original TI that hasnít really been modified from stock.† Alleged to have been a vocational training vehicle in NL from new. Now restored to stock, everything looked as-new and good other than Eibach springs giving a slightly lower ride height. Stock 1600 with single carb, original ďEdselĒ steering wheel and dash. Seemed on the button. $30,000 BringaTrailer, Netherlands.† Great to see a TI left to be a TI, not turned into a Super-lookalike, hotrod, or race car. Quality looked typical NL-good. Car seemed to have no real issues other than location, if you were a US buyer. High price for a TI but Iíd call this fair for the originality and quality. 7/22
1967 Giulia Super. White car with black interior. Restored to stock specs. Good all over with new seals, trim, upholstery, paint. No apparent changes to mechanical spec. Listing said ďreproduction seating,Ē not sure if thatís all new seats or just the covers. $42,000 Bonhamís, Monterey.† Nice stock car, comprehensively done without getting to hotrod territory. Strong price in todayís cautious market. 8/22
ď1964 Giulia TI Super.Ē† †This was a wrecked TI Super apparently reshelled some years ago in Denmark with a 70s RHD Giulia Super tub.† Full on race car with light body parts, GTA running gear, roll cage, stripped interior, etc. Has FIA papers.† $39,292 Bonhams, London. This car is reasonably well known online and in the racing community so no one is pulling a fast one, trying to pass it off as a real TI Super. Among other things, there were no RHD TI Supers built. †Pretty serious race car, not much else you can do with it.† No way on earth could you build it for this price, or even buy the parts. So if shifting with your left hand on the race track was your bag, a steal. Youíll be answering questions forever though about its provenance. 9/22
1964 Giulia TI. Bluette car, grey 164 interior. A mongrel: Giulia TI shell, Super dash, 164 seats, 2000 engine with DellíOrtos, Bosch Spider wheels with 1750 brakes. †In the Bay Area many years, very rusty with poor paint, barely driveable. Bought and flipped on BaT. Repainted, rockers replaced, other ills attended to; goodness knows to what standard. $25,525 BringaTrailer, San Mateo CA. I saw this car several times over the years, seller made baseless claims about its power, etc. Nasty paint, rusty, weird interior. Flipper improved it but it happened in a trice, who knows about the quality. Not a car Iíd want.† Price not outrageous, would have to see in person quality of the work. 10/22
1966 Giulia Super. Red car with grey leather interior. Car brought to the US in the 70s, used some time, then has languished 40+ years. Basically sound, straight body with minimal rust, GTV engine, runs, drives, not especially well. Interior OK, new headliner, missing dash pad. Bumpers and other trim included but not on car. $18,000 Craigslist, Santa Rosa CA.† Car was first listed at a very high price on CL, slowly came down over many weeks. I looked at the car in person, drove it, but really didnít need a project.† I passed along to a few friends, one who is handy at this kind of thing showed up, made an offer, sealed the deal, even had the seller deliver to his driveway.† Fair price for a solid car. Work will be needed to bring to daily driver status, but for the right person a cheap way into a solid first-series Super. Folks who wouldnít drive to the Russian River missed out. 11/22
1971 2000 Berlina.† Blue pervinca with black interior, color change from original prugna. Fully developed car with strong engine, suspension, GTA wheels, all the usual upgrades. Video showing it hitting 200 kph on a Dutch highway.† $33,000 BringaTrailer, Netherlands. About as strong a Berlina as has come down the pike in years. Good body, interior, mechanicals, visuals. From a US perspective only downside was location in Europe. Was billed as a ďLussoĒ which generated much discussion whether such a thing even existed. No definitive answer. Strong car, strong but fair price. A comparable GTV would be double, perhaps triple; the Berlina discount persists. 12/22