Berlina Register Newsletter No. 50 (January 2022)
Notes and Comment
My Super just keeps on keepin' on.  Did ball joints, tie rod ends, and replaced the worn steering idler arm assembly with one I've had in a box since 1978. T'was better than the one in the car. Aligned, now all good. Didn't get rid of all my clunks, so I think lower A-arm bushings, the hard part, are still in my future.  Continued to do work on two friends' Berlinas, a green 2000 and my old red 2000. Mostly suspension and brakes, the stuff that matters but doesn't get done much. Short intro to save space; thanks to Jeff Kline for the GTA piece below.
The keeper of the Berlina Register, North American Giulia Sedan Register, and Giulietta Sedan Register is Andrew Watry, email watry@prodigy.net.  Send corrections to your information or any other Giulia- and Berlina-related facts, rumors, tips, or needs.  Always seeking articles for the newsletter. 
Whence We Came
Here's a blast from the past, pics of my first two Giulia sedans.
<![if !vml]>
<![endif]> 
On the left, contestant number one, a 1964 105.14 column-shift, bench-seat Giulia TI brought in from Europe, I bought in April 1977 from an ad in the San Diego Union. White, black vinyl interior and black headliner. Not running, bad water pump, towed it home with my dad, $400. I was senior at Carlsbad High. The water pump was the least of its ills. Had a 101 1300 in it. Got a water pump shaft from the Alfa dealer in Long Beach, rebuilt the pump, on the road. On closer exam, the car had a ton of rust and three shock absorbers; ragged hole in the trunk floor where one shock tore out. Stripped cam bearing studs. Extremely loose front end, it shimmied like you wouldn't believe at random speeds. Burned a hole in a piston on the way to Palomar College in fall 1977, like a WWII destroyer laying a smoke screen; pulled off at Carlsbad Raceway drag strip, called my dad, towed it home again. Traded for a lowered Fiat 850 Spider that had been flipped, landed on its feet. Still, this was my start in the Alfa world.
On the right, contestant number two, a 1967 Giulia Super, bought in May 1978 out of the Oceanside Blade-Tribune for $800. Pictured at Riverside Raceway behind Turn 6 grandstand, April 1979. Originally white, was shineless silver when I bought it, barely 10 years old. It had been hit in front and fixed, came with a complete car's running gear. I drove it home, not at all a bad car. I painted it red myself summer 1980, trying for attempted Jaguar maroon but I'm colorblind. This was my daily car til spring 1985 when it got rear-ended while parked on Haight St. in SF. The trunk got pushed into the back seat but it still drove. I couldn't afford to fix it. Took all the running gear and interior off and transferred to a Giulia TI roller (see below). Sort of a step backward but I didn't have a real job at the time. I drove that car til mid 90s.
I have the license numbers of these but at the time no one, including me, cared about VINs; I don't know them. The Super got scrapped at junkyard in Oakland. The TI, the friend I traded it to put a 1600 in it and was using it in Lakeside, Calif., last I knew, 1980.  Goodness knows now.
<![if !vml]>
<![endif]>
In the next pic the red car is the same Super as above after I painted it summer 1980 while working at Palomar Airport. This is how it looked when it got hit-and-run in SF in 1985.

One the right is the 105.08 US-market 1965 TI that I bought from Rich Ott of Alfeta Motors in SF for $400, swapped the running gear and interior from the wrecked Super into it. Suspension, ATE brakes, 1750, trans, dash, seats, interior, everything. Spent the summer of 1985 in an Oakland garage enjoying that. This car I do know the VIN, AR*449862*. I kept it from 1985 til the mid 1990s, when I sold to a guy in LA who turned it into a race car. It was pretty rusty, note the black paint along the rockers, and the roof was rotting through.  I sold it after I bought a Rover 2000 TC to replace it; I immediately regretted both decisions and soon afterward bought my first Berlina, the green 69 1750 below. Thus began the Berlina Register.
<![if !vml]>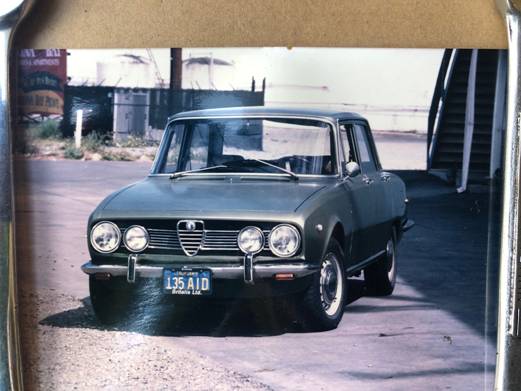 <![endif]>
Here's my first Berlina, a 1969 metallic olive US-market car, AR*1555393*, bought from a San Francisco Chronicle ad in the mid 1990s for $1200. Sounds cheap but it turned out to be a rash purchase. Had been broadsided on the right, both doors replaced and the B pillar straightened. It had a burned exhaust valve; even after creative tuning it wouldn't pass smog.  So I had to do a valve job, then a clutch. After that it was a pretty good car. A very 60s color.  Eventually sold to a friend after I got my green Giulia Super up and running. The Berlina was almost immediately totalled in San Francisco. The engine and trans were pulled out and are still in use in a Giulietta Sprint in the vicinity.
Alfa Racing Back in the Day
By Jeff Kline
I was fortunate to be the one of the first guys in the United States to race a GTA Junior.  The car was AR*775517*, I raced it 1969–1971.  This car was the first steppingstone that eventually propelled me to win 19 IMSA GT races in GTU, GTPL, GTP and led to the opportunity to race the TWR Silk Cut Jaguar at Le Mans.  Here is the story on my experience with 775517. Hang with me as I give you a little background how I got to the point where I connected with the Alfa.
As a kid growing up in McKeesport, Pennsylvania, I considered a Ford Thunderbird exotic; an Alfa was something you saw in magazines and dreamt of owning someday.   My Dad's Karmann Ghia set him apart from the crowd; told the world he was going through a mid-life crisis.  For me, the Ghia was a trainer in controlling oversteer.  I remember watching the Monaco GP on the Wide World of Sports in 1960 and thinking I needed to race cars someday.  We moved to California during my senior year in high school; I'm sure the McKeesport police were glad to see the last of me. While in Pennsylvania I was able to spectate at SCCA races at Cumberland, Maryland and Connellsville, Pennsylvania and watch Penske, Donahue, and Holbert.  Within two months of moving to California I was at the Los Angeles Times GP at Riverside.  After that, I was a constant spectator at SCCA races, which cemented my determination to become a racer.  I bought a Mini Cooper (998cc) for $1,836, brand new, and worked during college to earn the $36 monthly payment. This car brought me to Bud Hand Sports Car Service in West Los Angeles.  They would be an immeasurable help in getting me started.
Bud Hand's may have been a typical SoCal repair shop, but to me it was a house of treasure.  Many of the mechanics raced, as well as many customers.  There were always Alfas, MGs, Triumphs around the shop.  I remember seeing a very rare ATS one day, quite exotic.  I hung around gawking long enough that they put me to work (unpaid) cleaning parts and gofer work.  I was in doggie heaven! My GF (future wife) and I would go to the races with them and now I was close to the action.  The Vietnam War was warming up; the day I left college I received my draft notice.  I joined the National Guard and went off for six months' active duty.  While I was at Fort Sill, Oklahoma I got a letter from Jack Hand (Bud's brother) that a Lotus S7 was available.  I bought it; when I returned it was already prepped for racing.  I used it for SCCA driver's school and to get my Regional SCCA license.  By this time I was working for Bristol Meyers as a sales trainee and had gotten married.  The Lotus left, the wife stayed, is still with me.  (Judy has attended hundreds of races and deserves a medal as she is not particularly a race fan.  A few years ago, returning from racing at the Goodwood Revival, she said it would be her last race. She confessed that for her, attending a race was like spending the day in a Safeway parking lot.)
Stick with me, the Alfa is coming!  My being in the right place, meeting the right people, having the right people take an interest in me will play a big part in my path to being a race driver.  Loren Enochson entered my life.  He owned an engineering company that analyzed random vibrations for clients.  His company was right down the road from Bud Hand's shop.  He owned a TR4 that he and Bud Hand were modifying into a quick street hot rod.  Fate stepped in as Loren was heading down the I-405 and the SU carbs caught fire.  My next race car, sponsor, and  the next stage of my racing career were joined in that fiery instant.  Loren bought the car from the insurance company and donated it as a race car.  We worked nights making it into a race car, raced it in 1967 and 1968, winning a few races and earning me a National SCCA license. I was gaining experience and holding my own against Kas Kastner's factory Triumph race team.  The TR4 was crude (as were most cars of the era).  For example, I was tasked with tuning the rear leaf springs.  This was accomplished by disassembling the springs and taking them to the train tracks across from the shop, using the tracks as an anvil, beating them flat with a big hammer: job done. We were able to race the TR4 and do well thanks to Loren's financial help. In mid-1968 Loren decided we needed to raise our game.  The Alfa was about to enter the picture.
Loren was a successful older (I was 24, he was 38; "old" to me) businessman.  After two seasons with the Triumph he could see that Kastner wasn't going to help us, he was loyal to his own guys.  Loren decided I needed to get to the next level.  He organized 20 of his buddies to contribute $1,000 or $2,000 each and formed Performance Analysis Corp.  The goal was to go racing and promote my career.  We had about $30,000 (over $200,000 today).  I don't recall how we chose an Alfa Romeo GTA Junior, but we did, and an order was placed with Otto Zipper Alfa Romeo.  The price delivered for an AutoDelta-prepared GTA Jr. was $5,600.  Delivery time was about three months.  Bud Hand was one of the investors and would do the preparation at the shop on Santa Monica Blvd. in West Los Angeles.  I spent almost every night working on the car with Jack Hand, Loren, and Ed Selover.  Ed was an engineer/UCLA professor working on osmosis.  This would be of our Alfa race team with other "owners" helping when they were so inclined.
<![if !vml]>
<![endif]>
Late February came, the GTA arrived at the Port of Los Angeles.  Somehow Loren was able to find the car, get on the ship, and take a picture.  We went to Otto Zipper's in Beverly Hills a few days later to pick up the car.  The first SCCA National race was in early March at Willow Springs and we had a few mods to make required by the SCCA.  Surprisingly, the car had a rollover hoop but no fore/aft supports.  It also had a full interior.   Most race weekends in that era included a Regional race on Saturday and a National race on Sunday.  I wouldn't have a chance to drive the car until the Friday test day before the weekend.  I was anxious to make sure AutoDelta had lived up to its reputation. 
We were ready for Willow and our first race.  On the test day I worked my way down to the lap record at 1:50, but no matter how hard I tried I couldn't improve.  The power-assisted ATE brakes made the brakes very much like an on/off switch.  Someone suggested clamping off the servo vacuum; after doing so I improved by three seconds.  I felt comfortable in the car and all of us were looking forward to the weekend.
I qualified on pole for both races.  I won the Regional on Saturday, which may have been the first win in the US for a GTA Jr.  Sunday's race was interesting.  I started on pole and was running first going into the very fast fifth-gear Turn 9.  Bob Snow in a D Sports Racing car nudged me in the right rear, which sent me flying off the track to the left.  I slid through the desert sand and when I got to a shallow drainage ditch, had just enough momentum to roll over on to the roof.  I crawled out OK.  The wooden Alfa steering wheel broke, a long splinter an inch from my chest. Could there be a worse start to my Alfa career?
 We fixed the car right away and were ready two weeks later for Holtville, an airport course.  The remainder of the year, we won 18 SCCA Regional and National races, setting a lap record at every race. Alfa must have been impressed with our early effort and speed.   After the second race they made arrangement to give us $500 a race and a generous parts allowance.  They also said that if I won the SCCA Runoffs (the championship) at the end of the year, they would give me a new Alfa for the street. 
For six months we ran the car pretty much as delivered. However, some weaknesses did appear.  The cams would "go flat", as they were not properly hardened.  The valve springs were weak and would need to be replaced; they would weaken mid-session with no warning.  The bottom end was strong, we had no issues.  We solved the cam and valve spring problems with Shankle replacement products.  John Shankle also sleeved the intake ports, creating a coke bottle effect to increase flow.  John was very helpful and was also assisting Vic Provenzano at the same time in his 1600 GTA.
<![if !vml]>
<![endif]>
In this era few cars had adjustable suspension.  We would adjust tire pressure and change rear-end ratios. By experimenting we learned a lot about the car.  At a race in Seattle, the understeer was so bad we put wider tires on the front, which cured it.  We decided to take the car to a skid pad and paper clip-shaped track near Mira Loma that used mostly for passenger car testing.  We fabricated adjustable sway bars of different sizes, brought several different springs and adjustable Koni shocks.  We spent eight hours changing everything and making setup notes.  We were able to get the car set so that we could dial it in to any track.  I learned what changes made what results (I was sort of clueless before). We were now ready for the SCCA Runoffs at Daytona. 
My wife and I drove a van and trailer from California to Daytona for Thanksgiving weekend 1969, taking five days to get there. (When we stopped for gas, someone would ask "how fast will it go?" I started in Arizona saying 120 mph; they were not impressed.  By the time we got to Daytona I was up to 180 mph and they were impressed.) The track used for the Runoffs is the same as that used for the 24 Hours of Daytona. The track is really unsuited for the majority of SCCA medium and small-bore cars. You practically fall off the banking.  I am guessing the GTA Jr. was hitting a maximum of 115/120 mph.  However, this was a bigtime speedway and we were all happy to be here. Alfa had a big presence and there were four or five Juniors as well as 1600 GTAs and other Alfas in many classes.  We rented a space at the Gulf station across from the speedway so we could put the Alfa up on a lift each night after our two sessions a day.  We started practice on Wednesday and our race was the first on Saturday. 
The practice was confusing for us.  We were off the pace by five seconds.  We changed final drive ratio back and forth to find an explanation for our lack of pace.  We seemed to be a constant five seconds slow, but the motor was running well.  The fastest Alfa and class leader was Harry Theodoracopulos (Harry T).  We were all very frustrated.  I qualified on Friday in 7th place, still five seconds off the pace.  Back at the Gulf station, our brain trust seemed to run out of brains.  One of the owners suggested "did anyone check to see if the throttle is opening all the way"?  We all had a great guffaw over that, then thought, why not?  Sure enough, it only opened halfway.  Warm up on Saturday and I would have been on pole by three seconds and much faster than the #1 qualifier Harry T.  I improved nine seconds!
The flag dropped and by the entry to Turn 1, I was in 1st place, by the exit, I was last.  Harry T wacked me a good one from behind and spun me out.  Hero to triple zero.  I came back from 35th to 3rd and set a new lap record.  Alfa Romeo must have felt bad for me.  They offered me a free Alfa 2600.  Even at 25 I knew that was not a good deal even at no cost.   Alfa and I negotiated a beautiful Okra 1750 GTV for $1,000. 
The 1970 Season in the GTA Jr. turned out to be very frustrating.  Alfa asked my "owners" if they would like to take me and the GTA Jr. to Otto Zipper Racing.  Otto would run the team and all expenses would be paid by Alfa Romeo USA.  I'd drive the GTA Jr., Vic Provenzano would drive his 1600 GTA with the same arrangement and Scooter Patrick in an Alfa Tipo 33.  On paper it was good for everyone.  Otto turned out to be a difficult team owner and mostly interested in Alfa's money.  His goal was to collect as much money as he could and spend as little as possible. 
The best thing about being with Otto Zipper was forging a lifelong relationship with Bruno Borri.  He helped me move forward in my racing career with a few Ferrari drives in IMSA.  Another memorable event was running the doomed TransAm race held at a racetrack near Dallas at Green Valley Raceway.  It ran around and over a lake.  There were divers in boats stationed on the turns where, if you made a mistake, you'd go into the lake.  Overnight there was a torrential downpour, which filled the lake and covered the racing surface, race cancelled.
I put up with Otto until late summer, when I got fed up and went back to Bud Hand's with the Alfa.  By that time, we had won the SCCA Division title so the focus was to run the late TransAm race and get ready for Runoffs. I ran the October TransAm at Riverside with a 1300cc motor and finished 7th.  Alfa had said they would give us a 1600cc motor to use in the TransAm races, but they were not happy about my leaving Otto Zipper and reneged on that offer.  For the TransAm we had to run a full roll cage.  We built it from exhaust tubing and it was only eyeballed by Tech, and never inspected, so we got away with it.  
<![if !vml]>
<![endif]>
The 1970 SCCA Runoff was at Road Atlanta for the first time. Previously the event would alternate between Riverside and Daytona, now it was to take place permanently at Road Atlanta.  We had some help from John Shankle and Bruno Borri pitched in with his special tuning.  I had extra incentive to do well, Pete Brock of BRE Datsun offered me a 510 ride as teammate to John Morton in the TransAm for 1971.  This was contingent on winning the National Championship.  At Atlanta there were now many more GTA Jrs. This was the second year of their availability, John O'Malley, Dave Ammen, Gary Rutherford, and Madison Smith. I was quickest in every practice and qualified on the pole with a new C Sedan lap record.  No drama with the car, my Alfa was the class of the field.  The flag dropped and I was in the lead every lap with a Mini driven by Ed Spreen, right on my tail.  We had a sizeable gap on the other cars.  On the last lap the engine just quit. Ed went on to win the race and was National Champ;  I was a DNF. It was later determined the distributor wasn't tightened adequately and shifted.  My wife Judy was watching the race with Pete Brock and was more upset than I was.  She knew how much it meant to me.  Mike Downs thus became John Morton's teammate in 1971. 
The owners and I decided that running a formula car would be a great next step in my career.  The Alfa was put up for sale and sold to Hal Roren of Portland.  He was kind enough to loan it to me to run a a couple of races in 1971 to qualify for the 1971 Runoffs, where I finished 3rd.  Hal later sold the car on to Stu Moss in Portland and it would eventually find a home with Manuel Minassian in Los Angeles.  Coincidently, I recently purchased a great 1967 Giulia Super from Stu, completing the circle.
I continued to race on, driving the Hyde Park Motors BMW 2002tii in BS thru 1978.  I made the switch to IMSA in 1979 with Racing Beat and Mazda, stayed in IMSA to 1992.  I drove in GTU, RS, Camel Light, GTP and was fortunate to have "factory rides" about 90 percent of the time.  I won 19 IMSA GT races and drove at Le Mans with the Silk Cut Jaguar.  In vintage racing now in my vintage years I have enjoyed racing many Alfas including the 1983 Alfa Turbo F1, GTA, TZ, TZ2, and my favorite, the 1937 12C/37 Grand Prix car.  I raced the 12C at the Monterey Historics (won), Monaco Historics, Goodwood Revival, and Nurburg Oldtimers. I still race as often as I can in vintage cars and have the Giulia Super and a Stelvio in my garage.  Once an Alfa guy always an Alfa guy. 
<![if !vml]>
<![endif]>
Market Report
1967 Giulia Super. White car with grey? velour interior.  Complete operable car resurrected after 20 years sitting in a driveway. For a California car, very rusty.  Stock mechanicals, original 1600 with sporty little steering wheel, Bosch Spider mags, double front sway bar. Presumably drove well, BaT buyers cheered at the hooligan test-drive video.  $12,500 BringaTrailer, Berkeley CA.  I used to see this car daily. Eventually sat for two decades not improving any. Owner rejected all advances by slamming door, literally. In time someone talked him out of it, fixed the minimum to get it running, flipped it.  Car was very popular on BaT, folks imagined a bargain. True, a complete mostly original driveable Super for $12,500, but the entire bottom third of the car needs to be replaced. Rockers, doors, trunk lid, rear fenders, you name it, totally rusted through. So $12,500 to me represents at best 1/5 the cost of ownership once you've done the body.  Many folks, having invested in rose-colored glasses, disagreed with me. Fair enough. 8/21.
1968 1750 Berlina.  Beige cava with tan interior; live the beige life!  Early Italian market car brought to the US not long ago.  Many features carried over from Giulia series before the Berlina took on a development life of its own. Very clean looking car, repainted, appeared solid and stock. Much maintenance done, nothing really to criticize other than too many stickers on the car, easy enough to remedy.  $22,500 craigslist, Sonoma CA.  A stone bargain from what I saw.  Well lighted high-rez images showed apparent totally solid and stock car.  Nothing appeared to need work. A bargain by at least $5000 unless there was something lurking. 8/21
1972 Giulia 1300 Super. Red car with black interior, from the unificata era when the key difference between a 1300 and 1600 was the engine size; trim was basically the same. A shiny hotrod, Mille Miglia wheels, Konis, springs, headers, new exhaust, no bumpers, 2000 engine, blue cam cover. Paint in the 90s, up to spec mechanically, replaced fuel tank, gone through by a Dutch tuner. Undersides and engine compartment painted black. Said to be "Farina" red though looked like normal Alfa red to me. $36,500 BringaTrailer, Netherlands.  The spec of this car was fine, it just looked too something to me, maybe too shiny, too many nonstock pieces, not sure what. The black under and insides were offputting but in general cars from NL are very good. You couldn't build it for this but still seemed like a lot of money for a 1300 Super. Pics posed it before a windmill, a Dutch cliché. 10/21
1970 Giulia 1300 TI. Rosso amaranto car with tan skai seats. Looked very together, came to the US from Italy, only real change from stock with pair of Dell'Orto carbs in place of original Solex. Last of the floor-pedal cars. Nice paint, solid body, nice interior. Minor repairs done by US dealer. Good listing with pics and videos, responsive seller. $24,100 BringaTrailer, Ventura CA.  A good solid Giulia, not a hotrod or something posing as what it was not. Great color, stock equipment, normal wheels and tires and normal ride height. Twin carbs give a decent extra bit of pep, but it's still a 1300. Right in the price ballpark, perhaps a bargain by a few thousand. 11/21.
1974 Nuova 1300 Super. White car, black interior, brought to US from Italy a few years ago. Moved around some, not used, ended up on ebay billed as a "Berlina." 2000 engine, Daytona mags, lowered, bubbling paint in a number of places but overall didn't look that bad. Interior basically stock with knotty pine dash veneer, perhaps from its time in Kentucky. Said to run well but it hasn't been in use. $18,000 ebay, Ono PA.  Confusion abounds on Giulia sedan models and names, the Nuova adds to that. A heavy restyle in 1974 to look more modern with a plastic grille, different hood and trunk, different bumpers. Intended to resemble a Berlina. This car I saw pics of from a guy who was offered it before ebay.  Paint was average, bubbling in a lot of places indicating rust work needed. That said, the undersides were solid and it had a 2000 and nice wheels. Final price was under $18,000, seller accepted an offer. I'd say a fair price if the car wasn't a disaster in person. 12/21.
1971 Giulia 1300 Super. Blue car, tan skai interior. Stock stock stock. Typical European Giulia, used as a car and left alone, not morphed into a hotrod. Refreshing.  Located in Greece, not much history but recent servicing, looked solid and usable. Virtually nothing nonstock. Apparently repainted and undersides black, not body color. Seller would pay $2000 towards any shipping. $23,000 BringaTrailer, Greece.  Nice apparently honest car, not modified or molested.  Price about right; seller kicking in on shipping is a nice gesture to encourage bidding. Still, for a US buyer would be nearing $30,000 by the time you drove it off the dock. 1/22