†††††††††††††††††††††††††††††††††† Berlina Register Newsletter No. 43 (July 2018)
Notes and Comment
Somehow, the older I be, the busier I do. Work on friendís 1900CSS consumed my time til just recently, I donít mind; I got to have a 1900 around (and a 1900 Super came in after for two monthsí work). My Tiger has been sitting while other projects take its place. †I keep finding other things to do! I bought one each of one-owner 74 Spider and 73 VW Bus. But once the VW Bus is out of the garage Iíll get back on the Tiger. I built up a 79 Spider to go to a friend in Georgia, I left off the smog whatnots (no smog test in GA) and had a nice simple car. Last year I bought an 89 Mustang 5.0 five-speed to satisfy my urge/need to drive a small-block Ford til the Tigerís done. Well, you see, then this 69 Berlina and this 67 GTV came along? So I sold all three Spiders and the Mustang and bought it (see below) and, to complicate things further, an original California GTV. Busy times but good ones.
The keeper of the Berlina Register, North American Giulia Sedan Register, and Giulietta Sedan Register is Andrew Watry, email watry@prodigy.net.† Send corrections to your information or any other Giulia- and Berlina-related facts, rumors, tips, or needs.† Always seeking articles for the newsletter.† The keeper of the international Giulia Sedan Register is Barry Edmunds in Australia, email Giulia105@optusnet.com.au
Schmidtís Tips
Giulia TI Air Filter. Willy Schmidt from Vancouver checks in: ďAir filter element for Giulia TI with 2 bbl downdraft Solex carb and round filter canister.† NAPA PN 542157 or FIL 2157 fits correctly and works.† I was looking in many places and finally tracked this filter down as a common part for another car (Mercedes 190) and checked the dimensions with the existing one.Ē
Touch-Up Paint. Willy again: ďI was looking for some touchup paint for the inevitable stone chip etc and other than some Humbro Navy Blue from a local hobby shop. Was having no luck until I found Roberts Paint Care in Longueil, near Montreal. Thank you Google as the other option I found was in New Orleans.† While they did not have a listing for 1965, they did some research and suggested the AR 343 from later years would still be the same colour I received the paint today and it is a good match - now to wait for some better weather for some touch ups.Ē† https://www.robertspaintcare.com/search-results/?y=1979&manid=98&mod
Chrome Paint. Willy: ďI was looking at the controls on the turn indicator and headlights on the Ti. The stalks are getting a bit rough and the chrome is peeling. I found in a local hobby shop a most interesting product. Liquid Chrome 20 years edition made by Molotow. It comes in several widths so I got the 4mm size. The clerk showed me a sample but said the trick was to leave it for 3-4 days and do not touch. I just checked the headlight stalk; It looks quite good.Ē† https://www.molotow.com/en/product-series/marker-refills/professional/Ē
<![if !supportLineBreakNewLine]>
<![endif]>
Extreme Race Berlina in the UK
by Philip Stader
[Learned of this car from Ian Jephcott; thanks for putting us in touch] A little about the Berlina: 1968 1750 UK car, which has been competing in varying forms since the late 70ís; it was re-shelled with a Cypriot shell in the late 80ís.† It was raced in road going circuit spec by Chris Taylor and Ed McDonough at an early stage of its life (see second pic below). It then went to The Isle of Man and was used in the Manx Classic hillclimb for a number of years by David Turner (in those days it was red).
<![if !vml]>
<![endif]>
I purchased in 2015 and have used it in hillclimb and sprint events in the UK since. It currently competes in the MAC Sunrise Sprint Championship, the HSA Speed Championship, and the Midland Speed Championship. When acquired it was in a light hillclimb competition spec (see current-condition pic above) with a 2000 rear axle, Alfaholics suspension and exhaust manifold its was turning out 110bhp but we have since carried out the following:† uprated engine using Classic Alfa high compression original pistons and race cams (secondhand, spec and make unknown). The head and inlet manifold have been ported and DellĎOrto 45ís added by Dave at Mech Motorsport in Cheltenham. Window glass removed and replaced with Lexan, new Cobra driverís seat and up-to-date harnesses and a OHP full cage, fuel tank removed and light weight race tank fitted, and an Alfaholics exhaust. Alfaholics 8 x 15Ē wheels added with Kuhmo 225/50-15 soft tyres and set of 1969 Homologation GTA wheel arch extensions also from Alfaholics. Recent new Classic Alfa gearbox fitted.
The work has been carried out over the last three years by Brian Cornock of Mech Repairs in Cheltenham and Dave Young of Mek Motorsport Rolling Road in Cheltenham.† The car has been engineered bit by bit as weíve gone along adding and tweaking along the way. It current puts out 168bhp at the fly wheel and is extremely drivable and quite competitive.
<![if !vml]>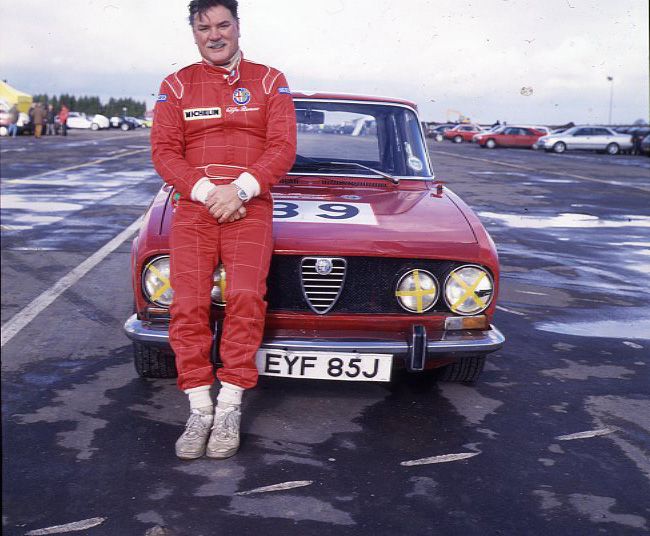 <![endif]>
<![if !supportLineBreakNewLine]>
<![endif]>
Berlina Register Back in Berlina Business
Sooooooo, kind of out of the blue, I got offered a really nice Berlina in February. And guess what, I bought it. Itís a white/red Canadian-market car, sold new in Quebec, migrated west across Canada to BC. Then down to California in the early 70s, owned first by a mechanic at the famed Griswold dealership in Berkeley (heís still at it, building engines for Patrick Ottis Ferrari), then in 1978 he sold it to a local guy who used it for fun, not a lot of miles, because he was busy racing the Giulia TZ he had bought in 1970. More recently, he was clearing his garage for another acquisition, and I happened to be in the right place at the right time. Car has had some minor rust repair and repaint over the years, but letís call it organically original, not restored. Driverís seat is recovered, rest of interior is largely original. It has its original motor, rebuilt with Euro cams, big valves, 45 Webers, a GTA exhaust, other mods. Driveline, suspension (has TI Super springs), and brakes have all been kept up to snuff. Lots of records with the car, I can see whatís been done over the years. Anything needed doing got done. ††Then, I fell into a set of real magnesium 14Ē GTA wheels, which seemed just the thing for this car. On they went. Car is stunning to look at and great to drive. All the white US-market Berlinas I know of had black interior; this is the only red one Iíve seen; everyone remarks on the combo. So happy. I rotate between my Super, Berlina, and Stepnose GTV. I canít keep them all forever, but for now Iím making the most of it.
<![if !vml]>
<![endif]>
Market Report
1967 Giulia Super. Charming unrestored blue car with tan velour interior. Sat for many years before mechanicals were comprehensively sorted and upgraded. 2000 engine, hydraulic clutch, new springs, shocks, brakes. Basically a 2000 under the shell with period looks. Older paint and interior, original black plates, few owners, lived in SoCal its whole life, so good solid shell. $33,000 BringaTrailer, Los Angeles. Big money for an unrestored Super, but itís kind of what everyone wants. First series car with ATEs, upgraded brakes, suspension, engine, but it all looked stock. And not so nice you wouldnít use it in the real world, which is really the point anyway. Not a bargain, but Iíd call it fair. 11/17
1973 Giulia 1300 Super. Green car with tan interior, prettied up in Europe and brought over to the US some years ago. Shiny paint started coming undone immediately, and now itís really erupted, rust everywhere. Very sad but owner took it like a man/woman, was candid about the condition and presented plenty of pics and description. Car was driveable but not used much in the last few years. Could be made daily operable will little work. $2,700 BringaTrailer, Pensacola FL.† Something of a sad story, this car came to the US with high hopes and lived a life visible on the AlfaBB, where you could see the rust eating through the paint in real time. Some of these imported shiny Euro-Giulias really need a close look. Price was going to be low, though I didnít think itíd be this low; the rust is very bad. Still, the running gear could be worth the price for another project; drive it til it breaks in half. Quite a good deal, but still sad for the seller. A cautionary tale: donít buy without an inspection. 12/17
<![if !vml]>
<![endif]>
1969 1750 Berlina. Extremely original white car with red interior. A Canadian-market car that came to the Bay Area early on, led a charmed life with two loving owners. Strong engine with big valves, Euro cams, GTA headers, 45 Webers. Drivetrain good, suspension upgraded with TI Super springs, shocks, sway bars, adjustable arms. Quite low, handles well. No real issues, seats are nearing reupholstery but car overall is stunning. Body has repaint in some areas, driverís floor was replaced. No pending rust. $15,000 private sale, San Francisco. I utterly fell into this; wasnít looking and didnít know it was for sale, but the seller and I worked it out. Second-best Berlina Iíve known. Fast, smooth, well cared for, unimpeachable history. Really a steal, like half price. Itís what the seller wanted, and was I going to strong-arm him to take more? No. 1/18
1969 US 1750 Berlina. Maroon car with tan interior. Decent beater-driver with basically sound structure. Paint is shiny but worn through in areas. Interior complete but tatty. Reported to run and drive well, money was spent on the mechanicals, not so much on the appearance. Owned many years ago by an idiosyncratic California Alfa racer, some mods including a support structure in the trunk.† One brake booster instead of original two. Turbina mags. $9800 BringaTrailer, Winchester VA.† Something of a low-grade frequent flyer on several venues, changing hands but not getting used.† Sold on BaT in July 2017 for $6100, now a 50% increase; not bad. I looked at this car when it was in California 15 years ago and passed, it needed everything. Now that the mechanicals are good, use it and enjoy. Doing paint and interior would be a personal choice, may or may not make economic sense. This price surprised me a bit, I saw it as a $7500 car. High but not crazy. 2/18
1973 US 2000 Berlina. Silver car, black interior. Complete and operable, been kicking among a couple SoCal owners for a time. Paint faded and flat, typical rust in rear fenders, interior worn if not trashed.† Largely original and unmolested, but thatís not to say itís a nice car. Good compression, working mechanicals, though typically spare ebay listing gave little useful information.† $5,500 ebay, Irvine CA. Ebay listings with 50 words about an old complicated car are a common thing; I canít imagine what sellers are thinking. Regardless, given the poor description, this listing had good pictures and the car was driveable. Still, rear wheelwell rust in a Berlina is a big fix if you undertake it, which this car needed. Good price for the seller given the minimalist description. 4/18
1972 Giulia 1300 Super. Gunmetallic metallic with grey velour seats.† Italian-market car brought to the US a few years ago. Decent looking condition, has a 1600 engine, mechanicals stock, ATS wheels, interior looks OK.† VIN says itís a 1300 Super but car is presented as a 1600 Super with the 1.3 identification removed. Not much difference between 1300 and 1600 in late-70s spec, but still, it should be accurate. $13,885 BringaTrailer, Pompano Beach, FL.† Lots of talk on BaT about the specification and condition, seller didnít respond.† BaT listed it as a ďGiulia SuperĒ but itís a Giulia 1300 Super, a different kettle of cuttlefish. Price low even for a 1300 Super, but who knows about the body condition on a cheap car from Europe. Seller could have done better by responding and being candid about its provenance. BaT should not take sellerís word for what a car is; the VIN tells all. †Iíve seen this problem on Petrolicious too. 4/18
1976 Nuova 1300 Super. Charismatic giallo piper car with black interior, imported from NL some years ago. Rebuilt 2000, upgraded/rebuilt drivetrain with sport suspension. About as nice as you can imagine a Nuova. $27,000 private sale, TX. Buyerís words: ďThis is probably a strong price for a Nuova, but the car is in really nice condition, has a rebuilt and upgraded 2L drive train and a sport suspension. Because I did all of the upgrading on it [buyer had owned it before], I also have a high level of confidence that wouldn't come with an unknown car in similar overall condition.Ē I couldnít agree more. My view has always been, buy the best Giulia you can regardless of model, then build the running gear to suit your use. Yes itís a strong price, but the buyer could rely on the condition throughout; there probably isnít a better Nuova around. Fair enough. †6/18