Berlina Register Newsletter No. 40 (January 2016)
Notes and Comment
I failed to write a second 2015 newsletter, was too busy with many things. So here's the first 2016 newsletter. Local news includes that the Giulietta Normale is in for paint, back to original black. Super has no seats at the moment, they're out for reupholstery with a shop that did a previous Super for me in 1983; I couldn't believe the guy was still in business. Race Super has been resting, I wasn't feelin' it the last year in racing. I did two LeMons races, but I might retire. No new Alfas, but I got a stunning red 1966 VW Bug cheap because of a "stuck engine," which I determined was a stuck alternator. I recently brought back to life a 74 GTV (see below behind Ford engine) and a 73 Berlina for local guys. The Berlina had a broken steering box, see below and thread on it on the AlfaBB. I'd never changed one before; it's not a fun project.
I bought a Sunbeam Tiger "kit," which doesn't mean an Alger, Tipine, or Alpine; it's a 1966 Mk IA 260 Tiger, certified by the Tiger club. But it was taken apart in 1977 for paint and never put back together. So I have my box of parts and my Testor's glue, and I'm going at it. Rebuilt its original Ford V8, now rebuilding the brakes, the rears of which are almost identical to a Giulietta's. Enjoying it, I always liked these. We'll see if I can see the project through. It's a lot of power in something the size and weight of a Giulietta.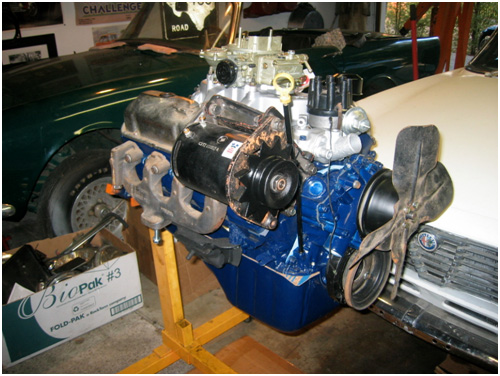 The keeper of the Berlina Register, North American Giulia Sedan Register, and Giulietta Sedan Register is Andrew Watry, email watry@prodigy.net. Send corrections to your information or any other Giulia- and Berlina-related facts, rumors, tips, or needs. Always seeking articles for the newsletter. The keeper of the international Giulia Sedan Register is Barry Edmunds in Australia, email Giulia105@optusnet.com.au
Inspecting a Potential Purchase
I've been doing a fair number of pre-purchase inspections lately, and thought it would be useful to talk about what to look for once you identify a Giulia or Berlina you'd like to buy.
Do you know what you're doing? This is not meant facetiously. If you're up on Alfas and mechanical things generally, great, do your own inspections. If you don't know a flux capacitor from a guilderfluke, bring or hire someone to look at the car for you. Go along, see it in person whether you can judge the condition or not. You may or may not like something or everything about the car, and that will settle it for you. For remote purchases, there is no substitute for going and looking at the car yourself. Failing that, find a trusted friend or recommended mechanic to give it the once (or twice) over, with plenty of pictures. Tell the inspector your concerns, areas you care about, how to intend to use it (daily driver, full restoration, or what).
Take a checklist. Take a checklist so you don't forget to cover important things like compression, oil pressure, water temp, chassis and engine numbers, rust areas, etc.
Talk to the seller. Find out all you can from the seller. A longtime owner should know a lot and have records. Nastier cars may have changed hands often and have no real history. And cars from dealers may or may not include history, and dealers can be intentionally vague about a car's past. The Berlina Register has a lot of chassis numbers in its system; I can look stuff up for you.
On the other hand, plenty of sellers don't know squat, and really, you should judge the car itself. Get a sense of whether the seller is giving you useful info or is just adding to global warming. And look the car over for how it's been cared for. Are the fluids topped up, things basically in order, no jury-rigs? That can tell you a lot about overall condition.
Do your due diligence. Caveat emptor is the rule. Yes there are protections for fraudulent misrepresentations, etc., but really, you should do your homework. Title issues? Carfax may or may not help with VINs this old. Ask around in the Alfa community, check the Berlina Register database, read Alfa books (especially Fusi's numbers on the AlfaBB). If a car needs smog checks (not common) you should check if it's legal. If you're bringing in a car from out of state or out of country, know the legal issues at both levels, and what's involved with the broker, shipping company, customs, storage, and the like. It can be complex, lengthy, and expensive.
What are you looking at? There are a dozen-plus different models of Giulia sedan, and two models of Berlina. People tend to think "Giulia Super" refers any Giulia sedan, but that's one specific model. Read up so you know how a Giulia 1300 Berlina differs from a Giulia TI Super. Each has its own engine series, brakes, interior, trim, market value, etc. Over the years components can be easily mixed and matched, and a car may not be what it appears to be, usually with no intent to deceive. Find and check the VIN to be sure; each model has its own VIN series. The VIN is on the passenger side firewall; on US Berlinas also on the driver's door jamb and on a tab in the windshield corner
Everybody wants a "matching numbers" car. Well, in the post-Giulietta era, Alfa didn't do it that way; they did not record a specific engine number to a specific chassis. That is, you can't say which engine came in which car. You can gauge engine ranges, based on databases like mine, but the factory took engines out of a common pile for GTVs, Spiders, Berlinas for any one period. So you can check that it has the right engine type and roughly the right number, but you can't say, unless you have the original invoice, which engine was in the car from new. Each model series has a matching engine series: Giulia TI is AR00514; Giulia Super is AR00526; US 1750 Berlina is AR00551; US 2000 Berlina AR01500. Gearboxes and differentials were not recorded. Anorak types may be driven nuts by this, but there it is.
Body and structure. This is the starting point for any old Alfa. Check for overall condition, paint quality and condition, color change, if any (see paint sticker inside trunk lid), straightness, rust, accident damage, replaced body panels, general fit and finish. Do the doors fit right, panels line up. Most common damage will be front and rear, check taillight panel, trunk floor, area around headlights and radiator support for cuts, welds, distorted panels, overlapping seams, hammer marks. Main spots for rust are rocker panels, jack points, floors, trunk floor, valance under radiator, lower fenders, especially the rear, door bottoms, "dogleg" area above rear wheelwell, and on Berlinas the cowl around the front and rear glass, especially on US cars with glued windshields. Giulias can rust in the rain gutters; Berlinas can have rusty trunklids edges.
Finding issues doesn't mean you give up on a car, but you have to think about what you want to do with the car to, how much you care, and what it will cost to fix. Repair panels are available for Giulias, but not much is made for Berlinas. So any problems may result in paying for metal fabrication, then paint. Whatever rust you can see, it will be worse inside; most rust works from the inside out. Rust always advances; it gets more expensive to fix the longer you ignore it.
Mechanical. Giulias and Berlinas share mechanical parts with other period Alfas, so most items can be sorted out. The components are generally strong and long-lived, but the work isn't cheap, so you want a car in the best condition possible. If I have to choose between mechanical and body issues, I'll take mechanical every time, as they are relatively objective and finite to fix, whereas body repair can be open-ended in terms of time, expense, and quality of work. And heart-breaking if it goes wrong.
Engine: Check engine number to see what it is (near the distributor on a boss, or on the bellhousing flange by the exhaust). Check the compression, oil pressure, water temperature, any noises like water pump bearing, valves, timing chain, piston slap, worn bearings. Look on both sides of the block for leaky head gasket o-rings; check oil cap, dipstick, radiator for evidence of head gasket failure. Does it start, idle, pull well? Start hot or cold? Spica has its own particulars; involve someone who understands it.
Transmission, clutch, driveline: Check for smooth shifting and quiet operation. Synchros will typically be worn on the lower gears, but how bad is it? Does it jump out of gear, especially fifth or reverse? Does the clutch feel smooth, or is it really hard to press? Does the clutch slip? At takeoff, is there bumping in the driveshaft tunnel? At speed, are there vibrations you can hear or feel? Driveshafts can present many issues. Does the rear end howl at speed? As you let off the gas, does the car steer itself in a different direction?
Steering, suspension, brakes. An Alfa should be fun to drive, feeling responsive on the road. The cars sway in corners, but normally that's not a big deal. Steering should light and precise; some wear on center is typical. Look at the steering box while someone turns the wheel; does it and/or the chassis area flex alarmingly? Berlinas are known for breaking Burman steering boxes. Hard to judge this before it happens, but it's good to know of it.
Is the suspension smooth, not clunky? Front suspension has a lot of pieces that can wear out. How low or high is the car, compared to what you want and how you'll use it? Low cars can strike the oil pan, spring pans, exhaust on the ground. Aftermarket springs, shocks, sway bars are common. Brakes should pull up firmly and evenly, no darting to one side. Berlinas will "stand on their nose" under hard braking, so don't be alarmed.
Interior. The interior is where you live; you want it to be decent. It can be more trouble than you think to sort out a trashed/incomplete interior. Giulia and Berlina interior parts are not a dime a dozen, and all the bits are unique to each car; don't expect Spider, GTV, or Fiat parts to fit. The seats are generally substantial and complex, relatively expensive to reupholster. If original, the upholstery will probably be worn, especially the stitching. Original wool carpets will likely be worn out. Later nylon carpets last longer, but are not as appealing. Door panels can get damp and collapse; no one remakes them. Giulia dashboards are very appealing in all forms and durable, make sure they're complete and things work. Berlina dashboards are formed plastic/foam, if cracked it's a big job to fix. Generally it's easier to swap in a better one. Home-added switches and gauges are not a great thing, but as long as they work and don't look silly, fair enough. Headliners get torn and stained. Replacing the headliner is a big job, requires removing front and rear glass and a lot of trim. Do not take it lightly.
Drive it. Take it out, get it warm, drive it to test everything. Don't wring it out, but use it like it was meant to be used. Issues will come up that you'll never find idling in the driveway or circling the block. It should be fun to drive and feel "on your side." Respect anything the seller cautions you on; ask about special instructions. I once had a prospective buyer take a 100,000-mile Berlina to the redline in each gear; I couldn't believe it.
The car should drive competently and smoothly. Should be as fast as the specification indicates (I realize that's subjective), but really, it should feel good on the road and pull well, and be smooth at speed. If the car feels unsure on its feet, something's not right. Rumbles and vibrations at speed are common; figuring out whether it's a brake, tire, driveshaft, motor mount, exhaust, or differential issue can take work. Do not underestimate the extent of problems you encounter.
Modifications. The newest of these cars is 40 years old, so lots of work will have been done over the years, and probably some modifications. Key considerations here are how original a car do you want, how well were the changes done, and how will you use the car? For a show car, you want original engine, wheels, interior, color, trim. For a daily driver or weekend tourer, a larger engine, sporty wheels, etc., may all be to the good; it's up to you. But do look closely for how well the modifications were done. Almost any component from a 105/115 car will fit on any other of the same period, so engine, carbs, trans, diff, wheels, brakes, etc. can be swapped around. I am largely an originalist, but I'm not a slave to that approach, and have my cars in the spirit of how Alfa built them. For example, my Super has a 1750 in it and Berlina wheels and hubcaps. I like it.
I had a Giulia TI for years to which I transferred the running gear and interior from a Super; it was what I could afford after my Super got wrecked. What you like depends on your taste. But it's good to know how the car came from the factory, and what's stock and what's not.
History. As much history and paperwork as you can get your hands on will help. Maintenance records from a good Alfa mechanic are great to find. Not every Alfa will have had such care, but these cars aren't so odd that a competent general mechanic will have trouble with normal work.
Be as prepared as you can, and read up and know as much as you can in advance. There are not a ton of these sedans for sale, but they also aren't super rare. There are enough that you can look for a car that suits you, your budget, your intended use. Jumping on the first car that comes along can lead to unhappiness if it doesn't measure up in one way or another.
Berlina/Giulia Market Report
1969 US 1750 Berlina. Apparent silver car, ? interior, a rolling shell that's been baking in the desert sun for decades. Dented all over, no interior to speak of, no headliner. Rough exterior trim, much surface rust, some body rust. Engine/trans included but out of car. $2750 ebay, San Diego. I was amazed anyone was interested, given the scale of the project, but got 15 bids, if real. Really just a license to spend thousands more; every system and part will need attention. A lot of money for a shell. 5/15
1967 Giulia Super. Green/tan car with 2000 engine and 4.10 axle. Good body, paint said to be average, interior looks nice. Owned serially by caring owners, much detailed and difficult work done to make it a good real-world car. Looks basically stock other than BWA mags, aftermarket steering wheel; missing rocker spears. $16,500 AlfaBB, Salem NH. A strong Super for everyday use, nice, but not so nice that you worry about driving or parking it. I thought the price was low by a few thousand, perhaps could have reached $20,000, but seller said paint wasn't as nice in person. Whatever, he's happy. But a moderately good deal for the buyer. 5/15
1974 US 2000 Berlina. Red/black car, very nice driver, factory AC, new paint and interior. Has been through a few Alfa enthusiasts in the past few years. Quality of work looked good, car had "pop" with shiny red paint. Mechanically appeared sound. $12,250 BringaTrailer, Lexington KY. Not everyone wants a red Berlina, or one with rubber bumpers. But still, given the strong condition, I thought this price was pretty low. I figured more in the range of $17,500. It was in Kentucky, so probably not a lot of folks checked it out in person. A better color and stainless bumpers would probably have made a big difference. 5/15
1965 Giulia TI. Tan car with red interior, which started life as a plain Giulia TI, but now is a Giulia-Super lookalike, assembled with pieces from many cars. Built by an Atlanta hobbyist who has done many such cars, the components are good, but the overall package lacks something/everything. Full Giulia Super interior, 2000 engine with Webers, LS axle, Panasport wheels, kind of a low-budget hotrod. No pics to judge undersides. $22,100 ebay, St. Louis. A lot of money for a car that's neither fish nor fowl. I hope the buyer knew what he was getting. This is Giulia Super money for a car that pretty readily can be identified as a Giulia TI, and the work to change it doesn't look stunning. Price is about $7500 higher than I'd expect. 5/15
1971 Giulia Super. A beige cava Biscione with tan interior. Looked overall to be in very nice condition, if in boring color combo. Very low miles, apparently original stunning condition, all stock, came recently from The Netherlands. Nothing to gripe about other than its cryptic coloring. $26,100 ebay, Thomasville GA. Right on the money for a good driver Giulia Super price, but this seemed like a better car than that; I wouldn't have been surprised at a higher price. Smart buy. Not all cars from Europe look this good; this appeared nearly flawless. 5/15
1971 Giulia 1300 Super. Blue car, tan interior, recently brought from Italy to California. Basically solid and properly functioning, a real-world car that had sat some and been rejuvenated with new tires, tuneup, brake work, carpets. Straight body with older paint, interior original, somewhat worn. Ran well, minor sorting needed but basically an honest car. $18,750 AlfaBB, San Francisco. I saw this car a couple times, really liked its honesty and stock condition in a color rare in the US. Must have lived a relatively sheltered life in Italy, but will still need some pepping up. Carpets are cheap and don't really fit, hole in exhaust, seats need doing. Still, get in and drive. Price is just right. 6/15
1967 Giulia Super. Originally blue, now green with tan interior, been off the road some decades, probably will need rejuvenating. But described as in immaculate cosmetic condition, both in and out. Pretty much stock other than 1750 engine. $20,000, San Diego. Not a lot of info on the car, but a fair price for a cosmetically solid Giulia Super in a nice color. Seems like a reasonable deal for both parties, assuming no major expenses when brought back to life. 7/15
1970 Euro 1750 Berlina. "Green" with "tan" interior. Using quotation marks because the whole car was rotted, rusty, crumbling, hard to tell the actual condition of anything. Appeared complete, but everything was old, worn out, bent, broken, holed. Included Euro engine, lights, etc. $750 ebay, Georgia. Don't know if the buyer was going for mechanical parts, body parts, or actually intended to restore it, but this car was pretty far gone. Restoring to street use would not make economic sense. Didn't look like many of the pieces were very good either, but engine, trans, driveline has some value. Generous. 7/15
1966 Giulia Super. White car, grey interior, rusty nonrunning project that came to Calif. from Canada a few years ago. Many years off the road, looks rusty around the lower edges, mildly trashed all over, if complete. Not much info in the ebay listing except that it "ran when parked," but that could have been decades ago. $7,600 ebay, San Diego. Presentation made it hard to judge the car, especially the lower body; it had an initial appeal--white with grey interior is iconic. But the closer you looked, the more you could see needed doing. The undersides were probably very poor. A lot of money for a car that likely needs total restoration. 8/15
1967 Giulia Super. Maroon tan project car. Complete, off road for decades, at least. Didn't appear to be rusty, but hard to be sure. Pretty much everything present, but worn out. $4,600 ebay, San Diego. From same seller as above car; he's good at digging out barn finds. This appeared better than most projects, but still, you'd had to be prepared to fix everything, I mean everything. Strip it down to the shell and redo it all. More than I'd pay to do all that work. 9/15
1970 Giulia Super. Charismatic metallic olive car with tan interior. Appeared pretty nice in ebay listing, faithful to original specification, in good running order. Minor mysteries includes some changes to the dash, rubber mats instead of carpets. Basically a solid running car, originally from Germany. $26,500 ebay, Cary NC. $25,000 is the going price nowadays for a solid usable Giulia Super, so this car is right in the ballpark. Pluses include an unusual color, apparently solid structure, and good running gear. Minuses include a few items not original to the car and some home-mods including holes in the dash. All in all, seems fair. 9/15
1972 US 2000 Berlina. Rosso amaranto/tan car, stunning condition for a driver. Straight body, shiny paint, one rust spot, interior great, Daytona mags, mechanicals fully sorted. $19,450 ebay, Pt Ludlow WA. This car went through several hands after being brought back to life 10 years ago in the Bay Area. Had a Jafco turbo for years, was returned to stock condition. This is a strong price these days for a Berlina. Older paint at some point will need attention; it's shiny but polished beyond its expiration date, and windshield area rust will need to be sorted. Still, a strong but fair price for one of the best looking cars around. 1/16