BerlinaRegister Newsletter No. 36 (December 2013)
Notes and Comment
Welcome again. No end of action; even with two kids in college now I've had to throttle back a little on my antics but you'd never guess if you weren't me. In August I bought a 1979 Alfa F12 van with Perkins diesel from a friend in Illinois, and with my brother in law, drove it home to Berkeley. See http://www.alfabb.com/bb/forums/romeo-f12-a12/233890-f12-trip-chicago-berkeley.html for the story. I just finished sorting the brakes (rear brakes didn't work), but basically it's a good, if rusty, machine. 2300 miles with no issues to speak of. It has passed around among various other Alfa owners, we kind of share it. Also, I just sold my #3 Giulietta Spider, too many projects, not enough room, and college tuition (Colorado, American U) is a dollar-sucking machine that is never not hungry.
In racing, ran my track Super at April and October CSRG vintage events, bringing up the back of the pack and having a good time. Also ran at the July AROC convention at Sears Point, had fun there with other Giulias, and we had an enjoyable Giulia/Giulietta/Berlina social session at a Petaluma bar, maybe 75 people. Finally, in October I crewed for Conrad Stevenson's Sprint Speciale on the Carrera Panamericana, a seven-day road race across Mexico. The SS came out of my backyard as a rusty shell, various folks in Berkeley helped Conrad build it. We finished first in class, 21st overall, a great time; not like any other experience you might have. For the team blog, see www.elplatillovolador285.com. In November we had a short Berlina Register tour to the Napa Valley, nice easy event, see below.
The keeper of the Berlina Register, North American Giulia Sedan Register, and Giulietta Sedan Register is Andrew Watry, email watry@prodigy.net. Send corrections to your information or any other Giulia- and Berlina-related facts, rumors, tips, or needs. Always seeking articles for the newsletter. The keeper of the international Giulia Sedan Register is Barry Edmunds in Australia, email Giulia105@optusnet.com.au
The Superest Giulia: The TI Super
Of the bewildering number of the Giulia sedan models, the rarest and most coveted is the Giulia TI Super. Alfa's naming policy creates confusion here with similarities (see http://www.berlinaregister.com/gul.htm for listing of 12+ separate models). This is not a Giulia TI and not a Giulia Super; it is a low-production model that preceded the Giulia Super, intended for competition homologation. It had a successful racing career and was something of a watershed vehicle for Alfa, leading to greater and more visible racing success with the GTA, GTAm, and Tipo 33 in the following years.
Denoted Tipo 105.16, in the serial number range AR*595xxx* with engine number range AR00516*xxxxx*, Alfa built 501 examples in 1963-64, the second model in the Giulia body, after the original Giulia TI of 1962. These cars were built to race, and many/most were in fact raced and rallied, largely in Europe but also in Australia, New Zealand, South Africa, South America, and a few in the United States. As with GTAs and other race cars, racing wear and accidents dented and destroyed most of them over the years. And like all racers, they got mercilessly, unsentimentally modified to remain competitive over time. Once they were obsolete and worn out by the 1970s, few owners cared about them and thus they were parted out, cut up, thrown away when no longer needed.
Just over 50 are known to exist today. Most are in Europe but others are scattered to all continents. For a listing, see both the Berlina Register listing of Giulia sedans at http://www.berlinaregister.com and the TI Super Register at http://www.giulia-tisuper.it/
The TI Super was introduced in 1963, based on the existing Giulia TI chassis. It looked much like the TI but had many performance upgrades and chassis enhancements and lightened features. All TI Supers were white with grey interior. Changes from the Giulia TI included (I know some items are subject to disagreement; I'm not trying to be the world's authority):
Giulia Sprint Speciale 1600 engine with hotter pistons and cams, dual 45 DCOE 14 Webers, matching manifold, electric Bendix fuel pump.
Oil cooler in front of the radiator, plumbed from the oil filter base.
Tubular exhaust headers, later fitted to the GTA.
All were floor shift five-speeds (the first Giulia TIs were column shift).
Dunlop disk brakes without servo, later introduced to the entire Giulia line.
Lightweight magnesium wheels from the Sprint Zagato.
Small inner headlights deleted; screen mesh covers air inlets in grille.
Different badging with the Alfa racing clover on fenders and the model name on hood, the only Giulia sedan so marked.
Bumper overriders deleted. Lightweight Zagato-style bucket front seats.
Simple lightweight door panels.
Revised dashboard with three round Sprint Speciale instruments, no glovebox door.
One sun visor, on the passenger side.
Three-spoke aluminum steering wheel.
Light vinyl floor covering instead of carpet.
No sound deadening to speak of.
Thinner gauge steel throughout.
No window regulators in the rear doors.
Plastic side windows, some or all came with plastic rear window (front windshield is glass).
Weight listed in Fusi as 910 kilos vs. 1000 kilos for TI.
Many parts of a TI Super are standard Giulia items, no different from a Giulia TI. But the special parts come with special numbers (beginning 105.16...), and many of those parts went on to greater success when used on the GTA. Autodelta, the factory racing arm, developed special parts for all racing Alfas, and the TI Super was no different. Autodelta and in the United States,
Don Black and his engineering staff, were a two-way street of information with racers on special parts, successes and failures, favorable settings, and longetivity and reliability. Bulletins and engineering information went out regularly to racers, along with stipends and free/cheap parts under a factory support program. One such part was the "donut cage" to keep the giubo bolts from splaying. However, the driveshaft it attaches to is a standard Giulia TI item.
The inherent rightness of the Giulia sedan design contributed to the success of the TI Super. First, the 105 chassis was a strong, robust, forgiving design, developed from the 101 chassis of the Giulietta. Second, Alfa designed crush zones in the car, allowing progressive crumpling in the ends, to protect the driver in the event of a crash, and to allow easier rebuild of a wrecked car, containing the damage. Finally, the Giulia sedan body had the second cleanest aerodynamics of any production car of the time, behind the Citroen DS, ahead of the GTV, Porsche 356, and many others. This, combined with the light weight, allowed high speeds on relatively limited power (especially on fast tracks like Monza and Spa), and improved handling and braking.
Myths abound about TI Supers, including that any particular car was an "Autodelta-prepped" factory race car with extra-special development and a storied race history. 45+ years down the road from the TI Super's time as front-line racers, this kind of thing is hard to prove or disprove. For discussion about one particular car and the issues that can come up, including factory attribution or not, documented race history or not, non-TI Supers that Autodelta and private tuners modified for racing, see http://www.alfabb.com/bb/forums/alfa-romeo-history/135095-history-genuine-giulia-ti-super.html
As mentioned, the TI Super was a tipping point car in terms of Alfa's race participation. In the post-war era Alfa participated briefly in Formula One, and had dabbled in hillclimbs, rallies, and long distance races. Giuliettas were common race and rally entrants, but mostly by privateers. TI Super racing involved the factory fully in terms of support, participation, and special parts to a much higher level than with Giuliettas, and the factory racing arm Autodelta (first independent, then in-house) was a fundamental part of this. TI Supers were run in a variety of over-the-road and track races, including:
1963 1000-km race at Nurburgring, two TI Supers ran (with three Giulietta SZs), one finished 4th in class and 24th overall, the other crashed. By the 1964 race, Alfa ran the TZ instead of the TI Super; it had a brief top-level racing career.
1964 Monza 4-Hour Race, five TI Supers participated, Giancarlo Baghetti winning, TI Supers taking the top three spots.
1964 Geneva Rally included seven TI Supers, the best finishing 10th. By the 1965 rally, all the guys who had been in TI Supers were now in GTAs and Giulia Sprints.
Winner of 1964 6-Hour International, Sandown, Australia (see here for Alec Mildren video of the race, with a TI Super and GTA: http://www.alfabb.com/bb/forums/gta-1965-1975/215913-alec-mildren-aus-gta-video-65-sandown-international.html).
1965 24 Hours of Spa, six TI Supers participated, Bianchi and Masoero taking first in class and fourth overall.
The TI Super was also likely used as a "mule" for development of the TZ and GTA, both of which followed right after, were built in large numbers, and had much greater racing success. It is likely that the twin-plug engine, close-ratio gearbox, and other systems were tested and developed on Autodelta TI Supers. All these years later, though, it is hard to document and prove in the case of any particular car.
In the early years in the US, the TI Super tended to run in endurance and distance events, such as Sebring, Daytona, and Marlboro.  The only TI Super, and in fact the only Alfa, entered in the 1965 Marlboro, Maryland 12-hour race finished first overall, piloted by Monty Winkler and Peter Van Der Pate. They beat strong opposition from the Team Lotus and Alan Mann Lotus Cortinas (five in all), one driven by Jacky Ickx and one by Jackie Stewart.
It's likely that few TI Supers came to the US in period; there was no obvious category in which to race them in 1963/64.  Some ran as B or C Sedans in SCCA later in the 1960s as sedan racing became established, and a few were set up for Trans Am and IMSA sedan use, in some cases with wide wheels and fenders. Knauz Imports in Lake Forest, IL, prepared one or more of these cars. Gaston Andrey drove one of two well-prepared cars in the first-ever IMSA sedan race at Talladega in November 1969 to a win, reported in the May 1970 Popular Imported Cars magazine. The two cars pictured are already battered from years of racing and have GTA wheels, flared rear fenders, and GTA-style ovals in the nose below the radiator opening, which many TI Supers received.
In terms of value, the TI Super is by far the most valuable and coveted Giulia sedan. They were expensive when new (2,400,000 lira vs. 1,570,000 lira for a Giulia TI; roughly $4500 for TI Super compared to $3000 for TI), and the price went up steeply as a car was subject to special preparation for racing, farther from stock,. Like most race cars, not many remained in stock, pampered condition. As used up race cars in the late 60s and 70s, their value reached its nadir, and many were destroyed on the track or disposed of afterward when the remains were deemed not worth fixing. But they always had a small dedicated following of admirers who appreciated the unusual specification, rarity, performance, and looks. Nowadays, with values in the $75,000-150,000 range, they are unquestionably worth fixing when found. As with most classic Italian cars, unmolested and original cars, regardless of overall condition, are more sought-after than sanitized restorations and bring the highest prices. Visible period racing condition, with documentation, is a big plus.
Lake Berryessa(ish) Tour
The Register just held a nice, shortish tour on November 17 from Vallejo, up Pleasants Valley, passed Monticello Dam and Lake Berryessa, crossed over to Pope Valley, dropped down through Angwin into the Napa Valley, lunch at the Oakville Grocery. Had 25 cars including uncountable Berlinas and Giulias, two Giuliettas, Alfetta Berlina, various GTVs and Spiders, two big Ferraris, Lancia Fulvia Coupe, Abarth 850 TC, Porsche 356, E-Type, big Healey, Sunbeam Tiger, Miata. Great tour with the usual fun crowd. November weather cooperated, it was brisk but warm in the sun. Good time all around and motivates me to look for new routes.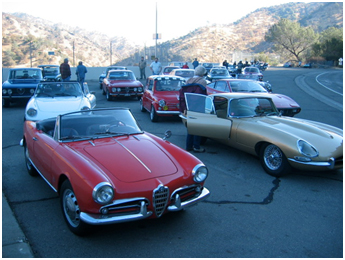 Use Your Giulia!
Here's a fun pic from Bob H. in Vancouver, circa 1970, of a Super he bought new. This is when folks used them like real cars! He drove this car for nine years til it was utterly rusted away, then replaced it with an Alfetta.
Giulia/Berlina Classified Ad
Berlinas Fresh From Italy.  ReOriginals has taken in trade five Alfa Berlinas on an old Alfa Sports racer we had for years. There are two 1300 Nuova Giulia Supers, 1973-74 versions. There is one 1750 Berlina, a 1969 and two 2000 Berlinas. Being European versions they all have stainless bumpers and twin carb, five-speed set-ups. They are priced from $8,000 to $18,000, the 2000 Berlinas being the most expensive as they are in better condition and cost more in the trade. Due in Houston late January. Please contact Matteo at 832-632-9295 or matteo@reoriginals.com
Giulietta Berlina pistons. I have a set of NOS Borgo 7.5:1 Giulietta Berlina pistons with pins, rings, good used liners that I won't use. Let me know if you're interested, just looking to get the $250ish I spent on them. Use for a 750 turbo project! Andrew.  watry@prodigy.net
Berlina/Giulia Market Report
1973 US 2000 Berlina. This maroon/tan car has kicked around California with 9+ owners in the time I've know it. Mechanically all there, some mods like Euro cams, Marelliplex, Bosch Spider wheels. Interior OK, not memorable. Not a rust bucket, but was in Santa Cruz for years, couldn't have been good for it. Questionable metallic paint and bodywork, including damage to the LR door. Probably a fine driver, dialed in mechanically by its North Bay owner. Sold from the Bay Area, then quickly again in LA on ebay. Not sure what's up. $9,750 ebay, Los Angeles CA. I'm not sure this was a completed sale but haven't heard otherwise. I knew this car in the flesh, and it really did need some heavy cosmetic work in the left rear door and environs, and you'd probably want to get rid of the metallic paint. The ebay listing skillfully obscured the body issues. I'm fairly shocked at the price if the buyer knew what he was getting. With the body issues, this to me was a sub-$5,000 car, regardless of mechanical condition. 5/13
1972 US 2000 Berlina. Early US car, originally beige cava and tan, now rat-rodded flat black. Operable, complete, seems in decent mechanical condition, Panasports and new tires, but the body needs sorting and painting. No pictures of the interior. Car has bounced among Calif owners and dealers for 10+ years without getting sorted. $3,550 ebay, Los Angeles CA. Another question-mark sale. I knew this car when it first came to CA, was an honest car, if big project with wiring and injection horrors, and microblistering all over. Hard to tell if the flat black was done with spray cans over bubbles, or professionally stripped first.  If the car drives well and doesn't need further sorting, a reasonable deal. If body has major issues and interior needs doing too, this will be lots of money to get to a good result. I'll tentatively call this a market-ish price assuming no bodywork before painting. The buyer still faces the emotional rollercoaster of a paint job. Even Hot Rod magazine says the satin black paint craze is over. 5/13
1967 Giulia Super. Green/tan car, in California from new, black plates, one serial number earlier than my car. Solid stock-looking car, mild upgrades with 1750, cams, 4.10 rear axle, 2000 wheels. Owned for years by a devoted Alfa lover who also had a 1300 Super, Spider, F12 at one point. Eventually surplus to needs. Well cared-for, showed regularly, used regularly, overall nice with only a dingy-ish engine compartment to let it down. $21,900 private sale, Santa Barbara CA. This car and mine are twins, having come down the line nose to tail, both with black plates, same colors, in CA all their lives (sigh, this car has now left the state). The seller loved this car but in time his wife wanted to drive a modern car. I haven't seen it in the flesh in a few years, but spec is just right, cosmetics and interior are good, just some cleaning and sprucing needed. $25,000 is the going rate for a strong Super, so this was a bit on the cheap side, perhaps a slight bargain, perhaps just right depending on maintenance needs. Parties are best friends now. 5/13
1973 Giulia 1300 Super. Pino verde/tan car recently brought over from Europe, looked stunning in the BB pictures. Low miles, clean, well cared for, nice interior showing just a bit of real-world use. Recent Euro inspections, all faults remedied, so should function fine. Runs well, cruises in 70s, made 400-mile trip home no problem. Not as fast as a 1600, but 1300 Supers have their own appeal. Body in fact not quite as good as it looked in pictures, but still better than most Giulias. Trunk pictures looked like it'd never been used (see below). $15,000 AlfaBB, Franklin TN. This car on the BB looked utterly unmolested, and I pushed various folks to follow up. The seller's approach and communications were poor. He started at $23,000, settling in the end for a third less. A friendlier approach would have served him better. The buyer, who was close by, zipped in and drove it home, no problem; smart guy. I'd call this a good deal by at least $3,000, perhaps more. My advice when buying a Giulia is to buy the best you can, regardless of specific model or specification. As a late 1300 Super with hydraulic clutch, you can drop in any engine in a weekend if more power is your goal. If this had been in my neighborhood I've have been all over it. 6/13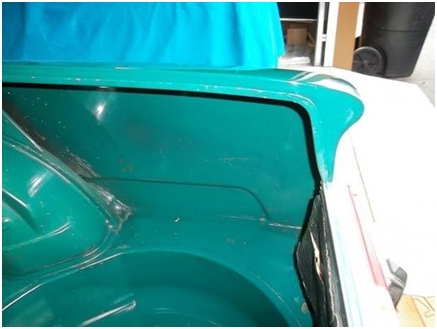 1966 Giulia Super. Red with black interior, recent 1750 engine, 4.10 rear axle, typical "California hot rod" as Keith Martin of Sports Car Market has described them. Nicely done car, been in California many years through several owners. Recently pampered and treated to various upgrades, though not used a whole lot. $30,000 AlfaBB, Eureka CA.  The high end of the market for a Super, no question, and beyond where most top cars are at the moment. Pre-recession, this was a common and viable price for an exceptional, now seems steep, but I also haven't seen the car in person in over 10 years. I looked at it under a previous owner, when it needed an engine rebuild, had tired suspension, poor bodywork, etc. So I'd call this over market value by a couple grand, but there also aren't many super-clean first-series Supers around (the variant everyone wants), so if the buyer's happy, where's the harm? 6/13
1969 US 1750 Berlina. "White" with grey interior. A nasty apparently operable project that has kicked around the Northwest for years. Poor body, needs paint, rocker and floor repair, rear fenders and doors have been cut and flared into the doors. Bumpers and trim don't fit. Grey velour seats and door panels, painted dash. Spica gone, has Webers, Libre racing wheels, otherwise no information on mechanicals. $3250 ebay, Seattle WA. This car is a horror that has been kicked around foster homes, most recently by a Washington dealer. Offered for ages at $8895, someone jumped once on ebay with no reserve (apparently; later news says sale may not have been consummated). With close to no ebay information, I hope the buyer inspected it. The cut/flared rear fenders are a big job to put right; maybe it'll become a track car and won't matter. It's too expensive for a parts car. A project/problem car in almost every area I can see; a generous purchase. If the body is as bad as it looks (are they ever better?), the new owner is looking at many thousands in metal work to make a solid platform. I'd call this a $1200 car at most. In times of yore this would have been the proverbial "free Berlina." 7/13
1967 Giulia Super. White car with nonstock black interior (GTV seats), sat for many years, appeared to be complete and largely solid, bumpers rusty and minor body damage. Interior looked to have been refurbished before car was put away. Seller planned to make operable before sale. Appeared stock mechanically, battery moved to trunk, maybe tube headers. $15,000 craigslist, Redlands CA. This car was not on anyone's radar, came out of the blue. Fairly nice in pics, but undersides and mechanical condition were unknown. As such, the price strikes me as pretty high for the condition unless the buyer confirmed all that before purchase. I wish I knew more. If you could drive it away and do no work, fair deal. But how often is that the case? 7/13
1966 Giulia TI. Celeste blue/grey Giulia TI morphed into a Super look-alike with engine, interior transformation. Longtime driver by a buy who's had many Giulias, paint and body looked on the poor side, rust in rockers and door bottoms, paint older. Mechanicals stated OK with 1750 (needs head gasket), late brakes and suspension. Giulia Super dash, velour seats, interior not bad, if not stock. $7211.20 ebay, Atlanta GA. As a driver, probably a pretty good car. 1750 is great in a Super, I did this same engine/interior conversion with a rusty TI 25 years ago. To bring the car above a beater will to take a lot of money. Any body work will be expensive; returning to stock engine/interior is probably not feasible; who has the parts? Use as-is (after head gasket fix) is maybe viable option; for a checkbook mechanic, fixing will run into many figures; you can hit $15,000+ pretty quickly. I see this as expensive, though not delusional. 7/13
1966 Giulia Super. Blue car with tan interior that was an abandoned as a project about 2005; sitting outside an oceanfront shop since. Rusty, interior sun-baked and trashed; most exterior parts of the car are messed up one way or another. Has 2000 engine and later brakes/suspension. Missing some trim. $1,000 private sale, Long Beach CA. Given the condition, a parts car or base for a racer. Mega roof-rust along drip rails is not viable for most to fix. For a racer, fix body quick and dirty without worrying about cosmetics much. Price seems fair/bargain given potential use; parts alone are worth price paid. It's not viable for the undedicated though. 7/13
1972 US 2000 Berlina. Beige cava with tan interior, fully restored a few years ago by Bay Area collector starting from a good base. Excellent paint and interior, virtually all stock with minor changes like deleted bumper overriders. On inspection, needed some mechanical work including steering, motor mounts, suspension bushings. About as nice a real-world Berlina as you could expect to find. $10,500 Hemmings, Seattle WA. I knew this car before its restoration and after, and it is stunning, given that beige cava is not the most exciting color, but it's period. Was advertised in Hemmings (unusual place for a Berlina) in Seattle for $12,500, local seller ran right over and knocked off a couple thou, for what I consider an excellent buy. Minor fixes above have made it a super-nice car for tours, real world, local shows. I'd say about 2/3 market price. 8/13
1967 Giulia Super. Green/tan car, been in limited use for some years, complete, driveable, needs paint, upholstery work, windshield. 1750 engine, ran well, had unknown noise. Lived off the beaten path in Wyoming, I imagine mostly in a garage. $10,500 AlfaBB, Denver CO. Car looked nice enough, but in a refreshing change of pace, the seller was candid that the paint wasn't as good as it looked, it needed interior work, and there was a longtime engine noise that defied ready explanation but didn't seem to get worse. Attracted attention on the BB, but folks were put off by the needs. Finally a Texan jumped, got it for a couple thousand below asking price. Strikes me as still high, needing paint, interior, glass, and the engine noise could be $5 or $5,000. This car and the beige Berlina above bolster my belief that a Berlina is worth half a comparable Giulia. At the same price, the Berlina is essentially perfect and this car has $10,000+ still to spend. 9/13
1972 US 2000 Berlina. White car with black interior, interesting history including being sold at a nonprofit auction in Idaho a couple years ago, now back in California, somehow kept its blue plates. Basically sound car, decent but tired cosmetics, new owner calls it "great driver condition." Much documented mechanical work done, engine and other running gear works well, no major body issues, some rocker rust already repaired, small amount of rust to fix in door and trunk floor, sounds typical. Interior newly done, dash has typical cracks. New stainless exhaust. $6,000 private sale, San Diego CA. Nice to see an unmolested plain-Jane Berlina back in use. Not many white cars around, pics showed a straight, respectable driver. Price sounds maybe a tad on the high side, but I haven't seen the documentation of work. And the market's creeping upward. This is certainly in the ballpark for a good driver Berlina. Nice job. 9/13
1971 Giulia Super. Late "Biscione" green car, tan interior, brought to US from the Netherlands. 1750 with Dell'Orto carbs, ugraded suspension, GTA wheels, looked stunning all over. Well cared for, really appeared to have no issues at all. Has all the advantages of late cars, hanging pedals, better brakes, better electrics. $23,250 ebay, Charlottesville VA. Stunning 1600 Super with a 1750, really a perfect combination, especially with the slightly lower suspension and racy wheels. $25,000 is kind of the going price for an "all there" Super, and without having seen it in person, this one seems to me is a notch above. I'd expect this to have gone into the high 20s, but prices, while having rebounded since the recession, may be stuck at the moment, I'm not sure why. This is a car that could sell itself, so this must be the market at the moment. Moderately good deal for the buyer. 10/13
1966 Giulia 1300 TI. Bluette with red vinyl seats. Stunning stock 1300 TI (most common Giulia sedan), looked to be in excellent cosmetic condition, recent seats, new Vredestein tires, and much mechanic work done to make it a solid driver. Looked to be as good a 1300 TI as you could ask for. Not fast, but plenty fun with its own down-market charm. $13,850 ebay, Newhall CA. Car went two rounds on ebay, settled at this price, which I see as fair, maybe a bargain, by a couple thousand dollars. Giulia Super prices continue to rebound, but "lesser" variants like 1300s with stock engines still languish. This appeared to be a stunning European-looking car (this model was not sold in the US, and this color is rare here) in appearance and condition. Yes it's slow, but (1) keep the revs up and stir the gear-spoon, or (2) remedy it with a cheap 2000 over a weekend, if you're so inclined. I bought a perfect 1300 TI in 2009 for $15,500, and here we are almost $2,000 less. Doesn't make sense to me, I think 1300s are a steal. Smart buyer. 10/13
1966 Giulia 1300 TI. Bluette 1300 TI with red vinyl seats. Possibly the same car as above, I'm not certain. If sold immediately, I'm not sure why, to realize just $600. Again, a dialed in car that looked rust-free and had much recent work done. Stock, charming in its austere 1300 TI way. $14,451 ebay, Glendale CA. Same comment as car above. If I didn't already have a Giulia I'd buy one of these at half the cost of a 1600 Super and put a 1750 in over a weekend when the 1300 wore out. These are a great deal, and you don't see US Supers in these Euro colors. Categorically a good deal, if as represented. 11/13
1967 Giulia Super. White car, grey seats, complete but off the road since 1990. Looked nice enough above the waterline, but plenty of rust in the rockers, floors, fender bottoms. Interior worn but nonetheless appealing in original vinyl. $4,708 ebay, Vancounver BC.  A seductive project that could ruin you. White with grey is an iconic combo for Giulia sedans, but repairing the bottom half of this car could lead to bankruptcy, not to mention going through every system to put it back on the road. Still, not an insane price for a complete late first-series Super in an attractive color combo. As with many ebay listings, not certain the purchase was real. (12/13)