BerlinaRegister Newsletter No. 34 (November 2012)
Notes and Comment
Greetings. This issue we have an article by Richard Gray on another intrepid journey across Canada to retrieve a Berlina to the Pacific Northwest. Great adventure! It's the earliest US-market 2000 Berlina I know of (AR*3000042*). And a Berlina Register tour report from June. A fair number of sedans were offered for sale this period, not a whole lot seem to have actually sold, at least that I could tell. Prices seem off some for Berlinas; Giulias are continuing to bring good money. Giulietta prices are crazy, but there haven't been any sedan sales to evaluate.
I've been unusually busy the past year at work and haven't dedicated as much time to the Register as I should. However, been working away on the cars as always. Street Super got bodywork (twice), new tires, painted wheels. Race Super is finally running well, oil leaks solved on its 1600, oil cooler installed. Should be set to run vintage with CSRG next year. Ran the AROSC 40th Anniversary time trial/race in October at Willow Springs, really great event. Berlina is painted (see paint in progress below) and reassembled, and ready to sell; I decided not to pursue turning it into a Turbo Berlina. I have the Jafco pieces, so if I get the urge at some later date I still can. Bought a 1958 Giulietta Spider Normale to keep my 1960 Spider Veloce company. Also have a 1985 Spider for my daughter, so my Spiders (3) match my sedans (3). I'm really digging the Giuliettas, so my interest may be shifting older-ward. Fantasy Junction has a 1900 Super that is really tempting, though large, expensive, and column-shift.
There's an appreciation of Giulia sedans generally, and the tale of bringing one into the US specifically, in the November 18 Sunday New York Times. As it happens I know the owner, who is in SF and have seen and drive the car. It's very charming in the way a European 1300 TI can be. See http://www.nytimes.com/2012/11/18/automobiles/collectibles/it-followed-me-home-can-i-keep-it.html?pagewanted=all&_r=0
The keeper of the Berlina Register, North American Giulia Sedan Register, and Giulietta Sedan Register is Andrew Watry, email watry@prodigy.net. Send corrections to your information or any other Giulia- and Berlina-related facts, rumors, tips, or needs. Always seeking articles for the newsletter. The keeper of the international Giulia Sedan Register is Barry Edmunds in Australia, email Giulia105@optusnet.com.au
800 Miles, Bringing a Berlina Home
By Richard Gray
My morning routine usually includes a casual review of what Alfas are for sale on eBay. I'd been pretty busy and hadn't checked it for a while, so was surprised to see a Berlina. They come up once in a while, but not that often. A Canadian car was even more rare. What's the price ... $1100 with a couple of days left. Hmmm ... interesting, and I promptly forgot it. We live in a sleepy border town in northwest Washington state, close to our diehard Canadian son, so the fact that the Berlina was in Canada was interesting. My son had also expressed an interest in a Berlina.
A couple of days later after arriving home from a couple-hour trip to a pumpkin patch with Daryl, Maiko, and the grandkids, I checked eBay again. Ohh, there's that Berlina. It's got 42 minutes left and it's only at $1400. I really, really don't need another project. After all, my 164B needs heads and front end work, I've got the engine out of my 1973 Berlina and got it stripped down ready to start the rebuild, and of course there's the kitchen remodel I've started. The kitchen cupboards are about 1/4 done, so a long way to go, but hey, this Berlina is going cheap. I know there will be last-minute bidding so I'll put a price in to make me feel good that I didn't pass it up, but also one low enough that I probably won't get it ... say $1551. Yeah, that's a good number. Well, it closed with me as the high bidder at $1500. Oh no!!! Now what do I do? How do I break this to Sharon? She'll be irate at another Alfa in the yard! It will be the fourth: two Berlinas and two 164s.
Daryl and family arrive a short time later to stay overnight. While Sharon is tied up with the grandkids, I pull Daryl aside, show him the listing and let him know I just bought the Berlina and need his help in breaking the news. Later that evening, Daryl starts off a discussion about how important it is in life to follow your heart and how your instincts are usually right. Haha, yes! I raised him right :) We let that sink in overnight. I made the confession the next morning at the breakfast table. I knew it would go better if the family was around; it was still pretty rough. Sharon's voice was shaking as she tried to come to grips with this purchase I haven't discussed with her. I reminded her of what a beautiful trip it would be across the Canadian Rockies this time of year and headed out the door to take the kids shopping. By the time I got back, the air had cleared and she was looking forward to the trip. That was a relief!! In fact, she wanted to go as soon as possible, so I booked our flight a couple days off: Sunday, October 14, from a smaller Canadian airport not far from us, Abbotsford, BC.
The Berlina's owner, Bob, offered to pick us up at the Calgary airport and take us to view the car. I wore my Alfa ball cap and Bob a nice Alfa jacket; there was no missing us. Bob spent several hours with us going over the Berlina, it was exactly as advertised, and showing us his Spider and project GTV race car. Yes, Bob is also an Alfaholic. Bob has bought and sold many Alfas. It seems all I can do is buy :( We agree on a price for two large boxes of spares, load them in the trunk and set off for a two-hour drive to Banff, BC in the beautiful eastern range of the Canadian Rockies. We were tired when we arrived at the hotel. We'd been up since 3:30 am to catch the early flight to Calgary. After a short nap, we set off for some mountain roads north of Banff while there was still daylight. The Berlina was performing like a champ. Starts, idles, stops really well, runs well at highway speed. A little hard to start sometimes, but not bad. It has a transplant 1984 Bosch Spider 2000 engine complete with wiring harness, speedo, tach, and oil pressure gauge. The work seems reasonably well done. The suspension is tight. The paint is faded, some rust spots, but not bad.
We booked into the hotel for two nights, so day two of the adventure we set out for Lake Louise. We picked up a young couple hitchhiking to keep us company. They were from France, in Canada on a working holiday visa and going to Lake Louise for a job interview :) The village of Lake Louise is just that ... a small village right on the Trans-Canada highway. The lake and surrounding mountains are beautiful. The village is disappointing. We dropped off our passengers and after a stop at the visitor's bureau decide to head north to the glacier fields.
The Berlina has performed flawlessly so far. I had packed up a few tools: wrenches, sockets, vise-grips, screwdrivers, pliers, electrical tape and wire, tie wire, and of course duct tape. All had remained unused in the trunk, which suited me just fine. It was quite a windy climb from Lake Louise to the Columbia Icefield, so why not have a good time :) The suspension in the Berlina was raised with rubber spring inserts for rallying. It also sports a belly pan and mud flaps. Not exactly your hillclimb set up, but we made out fine. We hit 140 kph several times and 150 kph (93 mph) once. What fun :) On a few hills I had to pass a few cars that were unable to contend with the grade and elevation. I also had to fight off a couple who were thinking of passing ... no one did :) Enough said. At this point I'm beginning to think this is not a bad car. I really don't know what we would have done if it had broken down up there. It's in the middle of nowhere.
A couple pulls up beside us and comments on the Berlina. Their first car was a Duetto followed by a couple of GTVs. A nice couple that understands what this is about :) After an hour or so at the icefield it's time for the two/three-hour trip back. The Berlina still hasn't missed a beat. The gas gauge is half full. Probably lots to make it to Lake Louise for a fill up before heading back to Banff. 2/3 of the way I'm beginning to get worried. I really don't know if it has the big or small tank and it's close to empty. In fact the red light is on! There's nothing to do but go, because there are no stations between here and Lake Louise. Fortunately we made it and put 45 liters in ... about 10 gal? It seems to be getting about 32.5mpg; again, not bad. An hour later we are back at the hotel in Banff. A good day. Lots of fun driving and beautiful mountain and lake scenery. The evening was spent shopping (my penance for the purchase) and out for supper at a local sports bar.
It has really been nice to get away for a few days. I've been working really hard the past several weeks on Daryl's car, starting to renovate our kitchen and getting our apartment ready to rent. What a great way to spend a few days. Day 3, Tuesday, it's time to start home. The plan is to drive to Kelowna, BC, and stay overnight with friends, and drive home Wednesday, day 4. As we start off from Banff, I'm noticing a slight clunk from the rear, or underneath when I shift ... maybe a universal? Maybe I can baby it home, maybe it's nothing. The universals and doughnut have been done in the past two years by the PO, but the car has been rallied many times. The drive across the Canadian Rockies is amazing. It you haven't done this trip, you should plan it. Fantastic scenery. I keep expecting a breakdown or problem of some kind, but so far so good. It cruises at 120-140 kph (60-85 mph) on the highway without complaints. We stopped at Revelstoke, BC, a railroad town, for lunch. Everyone stares at this strange thing driving down their street with that low raspy growl. I can't believe how comfortable the seats are. We just drove 3 ' hours and are not sore or cramped. They are probably more comfortable that the 164S I have. The rear clunk doesn't seem to be getting worse, so I can relax a little.
Our friends live in a nice town house style condo community. Dave is a bit of a car buff also. He invites me to park in the driveway. We discuss how this is a new to me car. It's a four-cylinder Alfa. Most of them leak. I really don't know this one. We decide to put a large cardboard under it over night. We had a great evening with Dave and Sandy whom we haven't seen in years. Dave has a diesel Jetta, a 2005 diesel Mercedes, and a Capri that was given to him. He does a little work on his own vehicles. Dave is really an interesting guy. Very intelligent, great debater, opinionated, kind of a philosopher. He's a Presbyterian minister by trade and has travelled extensively over the world, preaching or teaching in schools. In the morning, there is only a quarter-sized drop of oil soaked in the cardboard. Thank you, Berlina.
A border guard has been shot on the Canadian side of our border crossing in Blaine, Washington. The Peace Arch crossing has been closed since Monday. It's Wednesday and we leave Kelowna starting for home wondering about getting the Berlina across the border. We decide to leave the Berlina at Daryl's place in Langley, BC, while I figure out the border procedure. Before we left for Calgary, I'd talked to two Customs officers about it. They both told me it had to be exported from Canada before importing it to the US. I know it works that way when taking a US car into Canada. I'd just been through that with my son's 164S, but I couldn't find anything on the net indicating it was the procedure for Canada to US imports. Again, the Berlina performs very well on the final leg from Kelowna to Langley. Yes, this is a daily driver. Not pretty; faded paint and some rust, but I'd just completed an 800-mile trip without a breakdown :)
Today, Thursday after a visit to both Canadian and US borders and Washington DOL office, the Berlina proudly sits in our driveway legally with Washington state plates. I can't wait for next summer to come so we can take it camping. We're going to make at least one Berlina Register runs next year. Don't expect it to be pretty by then either.
Berlina Register Mount Hamilton Tour
In June 2012 we made a second biennial run from Berkeley to Mount Hamilton on a beautiful day, the view from the Lick Observatory almost unlimited. A nice array of cars with three interesting non-Alfas. If you're in the area, drive Mines Rd. from Livermore to Mount Hamilton; it's like remote Colorado; hard to believe you're a couple miles from San Jose. Attending:
1971 GTV, RuthAnn Y
1971 GTV, RuthAnn Y
1972 Berlina, Brian S
1972 Berlina, Andrew W
1973 GTV, Sean C
1973 Berlina, Howie S
1974 GTV, John G
Two silver Bosch Spiders, Jonathan T, Derek W
Two red Bosch Spiders, Don L, Andrew S
1970 Austin Mini, Chris S
1972 Saab Sonnet, Nicholas B
1984? Audi 4000, Andy S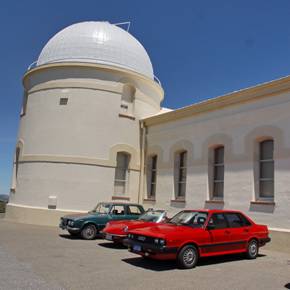 Berlina Giulia Market Report
Three Berlinas. Three Berlinas, an Alfetta Berlina, four Spiders, a package deal from a pack-rat Alfa collector, sold by a dealer after his death. The Berlinas were a mixed bag. One green 1969 with Spica, one green (originally blue) 1969 with Webers, and one giallo 1973. The Spica 1969 looked nice enough, the other two were rough. All had not moved in 10-15-20 years and would probably need everything to get moving, not to mention cosmetics. Same with the Alfetta Berlina, which was rough, and the Spiders, nothing special about them. $20,000 for lot, AlfaBB, Santa Barbara CA. This group (and the eccentric collector) was well known in SoCal, got picked up by a dealer who wanted to sell them as a lot, which seemed like a tall order, but which he was able to do. Interestingly, he acknowledged that the Berlinas were the draw, and the Spiders were more the 'must take with' cars so as to get the Berlinas. That's a change from the past. Price is not possible to allocate, but it works out to $2500 per car, which I wouldn't call a bargain if they all need reactivating. But there is unmet demand for running Berlinas at the moment. 5/12
1972 2000 Berlina. Clean, charming metallic blue European model 2000, with white/beige cloth upholstery. Owned and cared for long-term by respectful owner in New Orleans, 58,000 miles, barely broken in. Regular maintenance, kept in apparently top shape, some typical minor bodywork as might be expected for a car in a humid climate. Everything attended to that needed it according to seller. $4,000 ebay, New Orleans. I saw this car a couple years ago when I was in New Orleans, and it was as nice as described. This was its second time on ebay, coincidentally at the same time as an identical-color 'boy racer' US 2000 in Philadelphia. Alas, everyone flocked to that car, ignored this one. Seller said he had a low reserve, but no one, me included, expected it would hit reserve at $4,000. I call this an utter steal, like half price or better. Ebay can be a very hard marketplace to get a clear take on, especially with a reserve auction. Some smart buyer got what looks like the deal of the year. 6/12
1973 US 2000 Berlina. Beige with tan interior. A project car with lien papers and various issues inside and out. Claimed to be rust free and interior not bad. Needed windshield and grille. $1745, then $2125 ebay, Burbank CA. Don't know if this car actually sold. Pictures and description were pretty poor. At the price it was ballpark fair, but it would give you a beater drive or a basis for a complete restoration. Hard to know on ebay deals if it actually ever goes through. 7/12 1969 US 1750 Berlina. Green car with tan interior, 75,000 miles, one owner, been in storage since 1984. Sold new in the Bay Area, driven for 15 years til something broken, then parked in the garage. Absolutely rust-free, mostly original paint, engine frozen, brakes shot. Various small dings and scratches, looks like it fell off a lift or tow truck, with resulting small damage. Interior utterly original and as nice as you'd expect with such ownership. $3300 private sale, Berkeley CA. This was my sale. I was told about the car from a friend, just went and bought it, not quite sight-unseen but almost. After getting it home and finding the engine frozen and the need to rebuild the unique 1969 brake and clutch hydraulics at great expense, I decided I had enough to do and sold it. If the car had been bodily perfect I'd have kept it and made as-new. Prices for cars like this are tough to figure. The interior other than slight driver's seat wear was essentially brand new. Most of the paint was original and perfect. But it had three or four odd underbody dents, and probably would need painting, at least in some spots. A good deal for a time-warp, expensive for a project car. 9/12
1972 US 2000 Berlina. Champagne with tan interior, who knows when it was new. A cobbled car with Bosch Spider engine, 1750 grille, velour interior, set up for rallies and other fun stuff. Mechanically solid, cosmetically challenged, a rough and ready car in what I imagine to be a proud Canadian heritage. $1500 ebay, Calgary Canada. The car featured in this issue. Cruises at 90 mph, made it 800 miles across the Canadian Rockies with nary a stumble, how can you fault that? Far from stock in various directions, which makes value hard to figure. Not a car for everyone with the no-going-back Bosch engine conversion, but I'd call this a pretty fair deal for the mechanical package. I could see it easily $1000 more. 10/12
1972 US 2000 Berlina. Blue/tan car, very solid, converted to Webers; built, used, and maintained by a fastidious restoration shop owner. Pretty much utterly dialed in mechanically, long list of maintenance items and upgrades. A little bit of rust and the paint wasn't perfect, but an extremely nice real-world Berlina that is probably a great driver. $6300 AlfaBB, Portland OR. I'd call this a steal by a couple thousand dollars. This car was as dialed in as you could hope for without stripping and painting the body, and from the description it sounds like paint would not have been an expensive proposition if you'd wanted to do it. Great deal for the buyer. 10/12
1965 Giulia TI. Color hard to describe, but looks green/blue, with tan interior. Started life celeste blue. Car was listed a couple times on ebay, didn't look bad in the images, described as essentially solid but old and dirty. I saw it in the flesh once it came to Berkeley. It's not a rustbucket, but every panel had funny shapes, repairs, something. Underside was pretty nasty, looks to have been sitting a long time. Addco aftermarket sway bar! Essentially stock and complete, interior pretty good. $7400 ebay, Portland OR. At first blush the price seemed fair, but in person the body really is going to need some help, not inexpensively. For a full restoration it looks like a basically nonrusty shell to start with, or maybe make a race car? For a street-use car there's a lot of work to be done. In an online sale there's no substitute for an in-person inspection, or purchase contingent on approval after inspection. The seller really wasn't forthcoming enough. 10/12
1966 Giulia 1300 TI. Celeste blue and tan. Looked nice on the ebay listing, celeste blue, a great color, 100,000 km, everything works. Bodywork solid, interior largely original, everything functions. Paperwork from Alfa, etc. $14,100 Ebay, Tarzana CA. Typical price for a high-grade 1300 TI in the US. They tend to go for up to about $15,000, if stellar, so pretty much market price. You can get a lot of car for the money if you can live with a 1300. A comparable-condition 1600 Super would be typically at least 50 percent more. 10/12
1969 Giulia 1300 TI. Grigio indaco with red interior. Another solid 1300 TI, imported from Italy, in fact bought from author Stefan d'Amico. Stock, original, maintained as European cars are with good interior, very nice real-world bodywork with some repairs over time to a good standard. Very nice driver-grade paint, not perfect but fine. Interior cannot be faulted, function in every department is really spot-on, steering and brakes especially. 1300 engine is not a steam locomotive but it works fine and you get used to it. $10,000 private sale, Rome. A charming little Giulia, again about the going rate for a good 1300 TI in Europe, the most common model built. Add $5,000 to bring it into the US and you're at the same level as the blue 1966 car above. Right in the ballpark. If you want more power, easy to drop in a 1750 or 2000, since this has a hydraulic clutch. I see this as the way to go for a solid, economical Giulia; these are super charming and generate endless positive comments. 11/12