Berlina/Giulia/Giulietta Register Newsletter No. 30 (April 2010)
Notes and Comment
As always, action around my place. The stellar Giulia 1300 TI went to a new home (a previous owner in Michigan); I found it was too nice to use in the real world. Plus I wanted a race car, which I bought: a 1971 Super from Italy, built by the previous owners into a vintage race car (see listing in Market Report). I drove it home from Nevada, refreshed the 2000 engine, did a bunch of small fixes, and it's headed for the track. The white 1965 TI I bought and resurrected in late 2008 went to a local friend who has wanted a Giulia since he first saw one, but despaired of ever finding the right car at the right price. We were both happy. Having bought the new Super for track use, I retired my GTV and just rebuilt its engine with new pistons, bearings, etc,; it's my plan to sell it, not an easy decision, having owned it for 15 years.  I finally got the Giulietta Berlina registered and insured, along with the race Super. Both have Calif plates now and are legal. I also bought and fixed a wrecked 1983 BMW R65 motorcycle. Got my MC learner's permit and am tooling around on it. Fun!
Rich Tankel of ProSource Glass seems to have correct Giulia/Berlina gasket-size windshields in clear and tinted (last shipment turned out to be Spider, not Giulia). Contact him if you're interested (877) 345-2800; Jon Norman at Alfa Parts (510) 525-9435 got some, as did Patrick Hung, I believe, of VeloceSpace.
The keeper of the Berlina Register, North American Giulia Sedan Register, and Giulietta Sedan Register is Andrew Watry, email watry@prodigy.net.  Send corrections to your information or any other Giulia- and Berlina-related facts, rumors, tips, or needs.  Always seeking articles for the newsletter.  The keeper of the international Giulia Sedan Register is Barry Edmunds in Australia, email Giulia105@optusnet.com.au
Crossing the US in a Giulia 1300 TI
After months of watching and pondering, in August 2009 I bought a stellar low-mileage 1967 Giulia 1300 TI from Aston Martin of New England. I live in Berkeley, 3300 miles away. I had watched the car not sell on ebay repeatedly, and when it finally got down to a price I considered reasonable, and called them up and made a lower offer. They accepted and we agreed to a deal (contingent on inspection), I wired them the money, and a week later I was on a Jet Blue red-eye, with a suitcase of parts and tools, headed for Boston to drive it home. I tried to get friends, family, others to come along, but no one was up for a short-notice cross-country blast (see "3313 miles at 4000 rpm in Giulia" thread on sedan forum of AlfaBB).
Brian Shorey, certified Alfa sedan nut, kindly picked me up at Logan airport and transported me to Aston Martin in Waltham in his blue 2000 Berlina. After Dunkin Donuts coffee, and once the Aston Martin guys showed up, I inspected the car, took a test drive, and finalized the deal. The car is acqua di fonte (light blue) with red vinyl interior. 90,000 km from new; started life in Italy, then Holland, then Michigan, San Diego, Boston, then me. A lot of horse-trading and not much driving. While in San Diego, the shop that was selling it recovered the front seats, rebuilt the trans, did a valve job, and a bunch of other small fixes. This was all documented in great detail on their website (Motoring Investments) so I felt I knew the car before I'd even seen it. Basically the car was original, unrusted, and completely unmolested; as close to a showroom-new 42-year-old Alfa I'd ever seen. Compression was good, oil pressure was slightly on the low side, synchros were not even worn in, much less worn out. Unboosted ATE brakes take a strong leg, but the steering with 155-15 Vredesteins and big black thin-rimmed wheel was light and precise. Funky TI dash was charming, and the red interior with rubber mats was inviting, if not luxurious.
I hit the road almost immediately in the pouring rain. Luckily the TI had good wipers and a great heater/defroster. How many 105 Alfas can you say that about?  While not a powerhouse, the TI cruised pretty happily at 100-110 KPH (65 MPH) at 4000 rpm with its five-speed and 5.12 rear axle ratio. I headed southwest, eventually working my way to I-80 west. It rained on and off all day, and one of the few bright spots was a rest stop in eastern Pennsylvania staffed by Boy Scouts from Poughkeepsie giving out free coffee, donuts, Twinkees. I pressed on to Wilkes-Barre the first day before running out of steam. TI didn't miss a beat.
Second day I headed out early, again west on I-80. At Akron I angled south on I-71, turning west again on I-70 at Columbus. Pretty boring drive, but I'd given myself only five days to get home, so I needed to make 600 miles per day. Mostly stayed on the freeway, but in southern Illinois I got onto back roads, staying the second night in Effingham. The next morning I checked the trans oil at a truck stop, the oil fluid I had not checked before leaving Boston. Turned out to be fine, but I made a good mess and folks stopped to ask what I was doing with such a weird car. Two guys were heading south with an old T-Bird and a couple bikes on a trailer, on a nonstop drive from Denver to Alabama at 45 MPH, what their trailer could handle without fishtailing. Made my trip seem like a breeze by comparison. At every stop, people would come up to ask about the TI. Almost no one had ever seen such a car, but everyone loved it. The acqua di fonte color is so charming, and we all know how cute/ugly the Giulia shape is. One older church lady outside St. Louis said "It look like a toy car!" I met more people en route because of the TI than I could imagine.
Once you get to Indiana/Illinois, it's pretty stinking flat til you get to western Wyoming, and even that is high plains, not Colorado-type majestic mountains. Out of Effingham, I stayed on I-70 all the way to Topeka, where I jumped onto US 24, angling up to US 36, for a few hundred miles of real 'murican two-lane blacktop. As I say, it's flat out there, and the roads basically run straight and true. That doesn't mean it's not pretty though. Great vistas, majestic clouds and storms, lots of farms, prosperous and otherwise, and charming small towns, some of which have managed to survive the freeway and Walmart eras, and some which haven't. US 36 is not close to an Interstate or any big cities, so most of its small towns still have essential services intact and are doing pretty well. Passed through the geographic center of the US near Philipsburg, Kansas, and stopped for the night at Oberlin. TI doing fine, using maybe a quart of oil every 900 miles, and getting just under 30 MPG.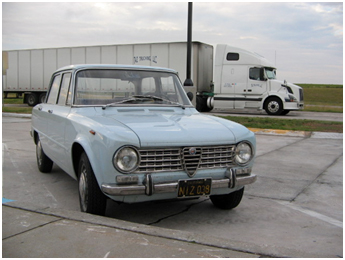 Next morning, up before dawn and headed northwest towards McCook, Nebraska, where I had my only "incident." At 5:40 AM on a Sunday morning, a 1967 Alfa Romeo with black California plate looks maybe a little out of place in western Nebraska on a two-lane highway. A police officer stopped me, then as he approached the car, apologized for doing so. He'd seen me from a couple blocks away, and my old Calif black plates, like all plates of the time, are not reflective like modern plates; he thought I had no plates. As he neared the car on foot he saw the plates, said sorry and thanks, and sent me on my way. A few dozen miles later my blood pressure was back to normal, as these plates (and the title and insurance papers I brought) were from my legal white Giulia. I had been unable to get either a Massachusetts or California temporary registration or trip permit for the journey, so I decided a little good-intentioned deception was the lesser of all evils. Please don't try this at home.
Nipping a corner of Colorado on US 385, I was soon in Wyoming, at ever-higher elevation, and rejoined I-80 at Cheyenne for the rest of the trip. I was really spacey by this time, and took a half-hour nap in MacDonald's parking lot (see above) next to the World's Largest Truck (from Texas), then a Coke and some fries revived me for the journey "over the hill" to Laramie, all above 8000 feet. The TI was still moving right along, though I briefly had to go to fourth gear at the summit at 8200ish feet. Over the top, I just motored along, across Wyoming and down into Utah. Headed through Salt Lake City, and crossing the Bonneville Salt Flats, hit the hay in pleasantly seedy Wendover, Utah (yuck, not glitzy casino-ridden West Wendover, across the line in Nevada). Bizarrely, there was a Cord at the same motel.
Up again on the fifth day, and had a largely uneventful drive across Nevada, through Reno, and over Donner Summit (7700 feet), again having to downshift to fourth. From Donner it's literally all downhill to my house at sea level in Berkeley. Had another fun moment explaining at the California aggy inspection station how I was coming one-way from Boston in a car with California plates, but they didn't send the CHP after me, so I guess my explanation worked. Next time, keep it simple.
All in all, 3300 miles in five days at 4000 RPM is maybe not something to recommend, but it was definitely an experience, and mostly an enjoyable one. The TI did not miss a beat, consuming only oil and gas. I checked things regularly, looked under the car, listened for funny noises, but the car had not a single problem. I was raised an Air Force brat, so I'm a veteran of cross-country road trips, starting when I was 18 months old. And two weeks before this trip I had driven east from Berkeley to New Jersey with my brother and flown home. I'm not hesitant about long drives. Many people thought I was nuts to do so alone, in a hurry, in a 42-year-old car, but I was pretty confident. And with a few tools, some duct tape, cell phone, and AAA card, you can readily get out of most tough situations one way or another. The only other Alfa I saw on the entire trip was an abandoned Bosch Spider near Mustang Ranch east of Reno. 98 percent of what's on the road in the US is really really boring.
2010 Berlina Register "Starbucks to Starbucks" Tour
For those within driving distance, the first 2010 Berlina Register tour will be Sunday, May 2, starting in Fremont, Calif., heading out Niles Canyon to Livermore, then over Mount Hamilton, and finishing up in San Jose. We'll have a picnic lunch at the Lick Observatory, so bring food. Tour will be about 85 miles, finishing up in San Jose by early afternoon.  Meet at 9:00 AM at the Starbucks at 39981 Mission Blvd. at Las Palmas in Fremont. Maps and route provided at the start.
2009 Berlina Register "Around the Block" Tour
Fall 2009 Berlina Register tour was a short one. Started at the Berkeley Marina, took a scenic Berkeley/Richmond Hills route to El Sobrante, "around the back" past San Pablo Dam reservoir toward Martinez and Briones Park, then looped around to Bear Creek Rd. 4to Tilden Park and back into Berkeley. An hour drive, followed by hours of pizza, beer, and checking out cars and projects at my house. Had about 20 cars, mostly the usual suspects, with Kevin Hurley getting a virtual "stay off the gas" award in his new super-powerful Corvette. He says he's learning to modulate all that horsepower. Speaking of horses, we were held up about half the tour by a diesel pickup and horse trailer that didn't notice 20 sports cars in its rear-view mirror. That's the risk in Sunday driving.
Berlina/Giulia Market Report
1965 Giulia TI. Blue with grey interior. Daily operable better-than-project car with a 2000 engine, Webers, hydraulic clutch, ATE brakes. Giulia Super dash and seats. Body average, with some rust, home mods, needing paint. Interior incorrect but looks OK with cheap seat covers. Euro bumpers. Mechanicals sorted; strong engine. $5,200 AlfaBB, Oakland, CA. A project sedan that bounced among numerous owners. Came to Calif. from Georgia with 1300 TI engine, used as a daily driver for some years. Sold to a guy who took it apart without labeling anything; sold back to previous owner on CL who (dreamy eyed because it was his wedding car) dialed it in with an APE engine and trans and put it back on the road (that greatly understates the amount of work involved). Used as a daily driver, then sold to another sedan nut. Beater driver or fix body? Always the question. This car is far from its origins; getting it back to stock is not feasible or maybe even desirable. Plenty to do if full restoration is contemplated. Price represents less than seller's out of pocket expenditure, not counting dozens of hours' labor. This is about market-correct for a car in this condition. 10/09.
1967 Giulia Super. Black, unknown interior. Rear-ended parts car being sold by a Florida junkyard. Appeared complete with claimed 1750 engine with Webers, LS diff, and Turbina mags. Likely not running. Beyond rear crunch, body was rough and rusty; interior likely the same. Poor pictures in ad. $520 ebay, Ft. Lauderdale, FL. If the engine really was a 1750, and it definitely had an LS diff, this was a good buyer's deal for parts. Probably too crunched and rusty to fix except as a race car, but LS diffs and 1750s are in demand. Lots of other good stuff to be had. Congrats to a savvy buyer. 10/09
1967 Giulia 1300 TI. Same stunning, original acqua di fonte with red interior 1300 TI as listed in the last newsletter. Original engine, paint, you name it. Front seats, valve job, and trans rebuild are about the only changes from new. 57,000 miles, and I drove it from Boston to Berkeley without an issue. Most stunning original Giulia I've ever seen. $15,500, private sale. Berkeley, CA. Alas, it was not the car for me. Too nice to use in the real world, kinda slow with a 1300, and there was this race car I wanted (see below). So I sold it to an earlier-in-the-chain owner for the same price I paid for it. He's very happy, and drove it to Michigan. This still strikes me as too cheap for the condition, but a lot of people value the Super name, interior, and 1600 engine, and so this car's price suffered a bit.  I guess this is the market value. 11/09
1971 Giulia Super. Verde muschio/tan. Worn-out everyday car imported from Rome to NC in 2002 to build into vintage racer. Krause & England did the work, to an OK, not great, standard. Street legal with lights, horn, turn signals; marginal for real-world use. Moderate 2000 engine with cams, headers, 45 Webers, oil system mods, low, very stiff suspension, full roll cage, stripped interior, race seats. Shell complete and mostly straight, but a few rust areas and proud track scars. $10,000 Giulia/Berlina Digest, Reno, NV. I decided a couple years ago I needed a more serious, less nice, track car than my GTV, and set my sights on a street-legal Super or Berlina. This is the first one that fit my bill. I looked at it in early 2009 when it was posted to the Giulia list, but the seller and I were far apart on price, plus the engine was tired. Nine months later we settled on a price and I flew to Reno and drove it home. Popped the engine out and did a light rebuild, concentrating on power production (rings and valve job), as the crank etc. was all good. Buying a used race car is a crapshoot, and pricing one is difficult. I'd call this price a tad over market, but the sellers were just barely inclined to sell, and beating them down further on the price means I wouldn't have taken it home. So I'm happy. Recall that over the life of a race car, the purchase price is a relatively small part of the equation. 12/09
1973 US 2000 Berlina. Giallo piper/tan. A rough driver with some dents and rust. Paint poor, interior shoddy. Mechanically all there and usable, but attention is needed in every area. $2,000 Pacifica, CA. A car that I resurrected six/seven years ago from an uncaring owner in Phoenix. I got it into good mechanic shape, drove it for a time, then sold it. It when through a couple owners and a salvage yard after being towed, and was rescued again. Rough all the way around, but a driveable restoration project. I'd think $1500 would have been more than fair, but $2,000 is not outrageous for such a car. 12/09
1965 Giulia TI. Light blue/tan black-plate California car that's been sitting in Calif's Central Valley for 20 years. Mostly straight and complete, though sun-blasted with 2000 engine, nipple lights, all original and unmolested; alleged that an earlier owner in Bakersfield also had a GTA. $1800 BringaTrailer, Fresno, CA. A lot of talk about this car on BaT and the AlfaBB and not much action til an LA Alfa shop owner/racer made the drive over the Grapevine and got a deal. He's thrilled. Yes there's a lot to do to put this car on the road, but an excellent base for a race car, full restoration, or charming patinaed driver. Reasonably good deal for the buyer. 12/09

1967 Giulia Super. Green/tan, good overall condition, average paint; good interior, some questionable work from the ebay pictures? Hard to tell with many ebay listings. Denver, CO ebay $6500 Buy It Now. I saw the car in in the flesh after the car was transported to LA and it didn't look bad. It was getting a head gasket job and other fixes, but basic body and interior looked good. Plus it's a great color combo. The $6500 BIN price seemed more than justified, but as a shop was doing the work it was becoming an expensive car at $110 an hour. 12/09
1971 Giulia 1300 Super. Green/tan, car imported from Europe a couple years ago, good mechanicals, paint looks nice but evidence of much bodywork, perhaps not to a great standard. Changed from maroon to pino verde. Interior slightly worn but very livable. 1300 Super engine pulled well, idled, drove very nicely once all four sparkplugs worked. A nice driver. $7,000 Ebay, Oakland, CA. I inspected this car for a prospective buyer (who decided not to act). The paint looked nice but the quality of bodywork underneath was poor, so you'd have to expect rust to reappear soon. Various small body fit issues, but the car functioned well and the interior was original and comfy. I'd say about market price for a car with a question mark over its body condition. If rust pops out soon, too bad for the buyer, and a poor gamble. If rust stays at bay, a great deal on a charming daily-use car. 1/10
1971 Giulia Super wagon. Blue with white roof/black interior. A RHD wagon recently imported to Calif. from England. Car appeared original from an equipment perspective other than the repro GTA mags; still had its 1600. Paint looks nice enough, but it seemed fresh and will need time to see how it shakes out. $25,000 Coys auction, UK. Giulia wagons are rare and cool. There are "wagon" types with back side windows and "panel-van" types without. This one has window. They were made by Alfa, Colli, and others. Lots of info and mis-info on these cars around, and lots of minor variations in how wagon body sections and tailgate were grafted onto original body. This car has a crossways seam above the front seats and a fiberglass roof. Some hardware etc. on the tailgate seems modified, but it is a 40-year-old coachbuilt car. If you want to draw a crowd among Alfa folks, show up in one of these; this car came on a Berlina tour to Point Reyes and no one looked at anything else. Price strikes me as reasonable if body doesn't disintegrate. Buyer had to pay to import it, so his real cost was higher. 1/10
1972 US 2000 Berlina. Blue/yellow fairly serious track Berlina, built by Chris Silvestri in Florida. Full cage, race seat, no interior, strong carbed engine, big brakes, chassis strengtheners, etc. A full-race Berlina. $10,000 AlfaBB, Fla. This car was for sale for a long time on various sites. A track-only Berlina can be a tough sell. Not many people are looking for race Berlinas in the first place (most want Giulia sedans) and many vintage race groups don't accept cars as late as 1972. So you need the right run group for the purchase to make sense. This car was certainly "worth it" in terms of how much work and money was put into it, its performance, and what it would cost to create. But if there's no market, it doesn't matter what you spent. I'd call this price fair for all. By comparison, my 71 Super track car (see above) was the same price, but street legal and prepared to a lower spec level; the Berlina probably could leave it in the dust. But that's market forces for ya. 1/10
1972 Giulia Super. White/grey. A Euro Super heavily worked over as a radical street car or mild track car, to approximately  resemble a TI Super. Slightly hot 2000 engine, lowered with Konis, repro GTA mags, GTV seats, deleted bumpers, Magnaflow exhaust, the whole boy-racer look. Quality of work and spec appeared to be good in online pictures. $16,000 BringaTrailer.com, Carmel, CA. People are building a lot of these TI Super look-alikes, especially in Europe. To me this kind of car is neither fish nor fowl; too hot for pleasant use on the street but not hot enough or safe enough (no rollbar or safety harness) to take on the track. Sure looks nice though and probably rips around pretty well. Price seems about right, perhaps a marginally good deal if the build quality is up to snuff. 3/10
1965 Giulia TI. White with red interior. Nonrusty but worn-out car that was in daily use in Berkeley til 1990, then stored indoors since then after the engine died. Dunlop brakes, 1300 Jr. engine, interior tired, some amateur fixes and mods. Paint not the best, but body is basically straight, unmolested, zero rust, and complete. $6500 private sale, Berkeley, CA. I took on this car to resurrect two years ago, building a 1600 for it, redoing the brakes and suspension, sorting gauges and wiring, and generally getting everything working. That took the better part of a year, and eventually I got sick of working on it, trying to solve persistent problems that defied easy solution (so-so oil pressure, spongy brakes, leaky trans). A friend who's had Berlinas for 10 years wanted it, and we worked a deal. He got a "friendly" price, plus with the unsorted issues I didn't feel I could charge full price. I'd call this a thousand or two below market. But I'm happy to have it out my driveway. 3/10